Disney Pixar's 'Onward' Is Now Available For Streaming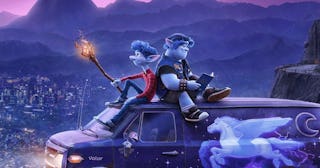 Disney/Pixar
Kids can now watch 'Onward' in their living rooms
Onward arrived in theaters just two weeks ago on March 6, but with mass closings of public facilities, Disney pulled it from theaters and opted to release it digitally instead.
RELATED: Best Disney Toys To Keep Kids Living Their Most Magical Lives Right At Home
Not only is Pixar's Onward also already available for purchase, kids can stream it for free on Disney+ on April 3.
Disney announced in a press release that Onward will be listed as available for digital purchase starting March 20 at 8/7c on Xbox, the Playstation Store, and the Microsoft Store. Slash Film reports that FandangoNow and Vudu listed the Pixar film as being up for pre-order to watch soon. The film will be available for purchase for $19.99.
The animated film is just the latest to offer an early release in the wake of the coronavirus pandemic. Emma, Trolls World Tour, The Hunt, The Invisible Man, and Birds of Prey also announced early releases so fans can enjoy them while social distancing.
"While we're looking forward to audiences enjoying our films on the big screen again soon, given the current circumstances, we are pleased to release this fun, adventurous film to digital platforms early for audiences to enjoy from the comfort of their homes," director Dan Scanlon and producer Kori Rae said in a statement.
Disney already bumped up another Disney+ release for Frozen 2 with the goal of "surprising families with some fun and joy during this challenging period." While it isn't surprising the corporation would bump Onward, it's very much appreciated by parents trying desperately to fill their kids' days.
Onward made headlines several months back when Pixar announced it was officially introducing its first-ever animated LGBTQ character. Lena Waithe is voicing a self-identified LGBTQ character Cyclops cop by the name of Officer Specter, Rae confirmed the news to Yahoo Entertainment. "It just kind of happened," she said during the interview. "The scene, when we wrote it, was kind of fitting and it opens up the world a little bit, and that's what we wanted."
Onward, starring Chris Pratt and Tom Holland who play two elf brothers, is set in a fantasy universe with mystical creatures, including wizards and centaurs, who have lost their magic roots. Their journey is filled with magic spells, cryptic maps, challenging obstacles, and discoveries that are sure to keep kids and adults captivated (which we could all use right about now).
Thank you to Disney for giving our kids something to look forward to when their lives are being turned upside down.
This article was originally published on