Disney Parks To Remain 'Closed Until Further Notice' Amid Coronavirus Outbreak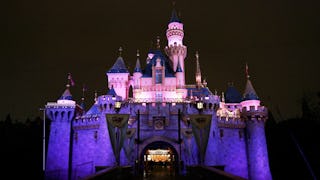 Frazer Harrison/Getty
Disneyland and Walt Disney World to stay closed 'until further notice'
As the coronavirus epidemic shows no signs of slowing down in the U.S., Disneyland and Disney World have canceled their planned April 1, 2020 reopening date. Earlier this month, Disney shut down both parks for the remainder of March, but on March 27, 2020 the company announced an indefinite closure.
Disney announced the hiatus online and said in a statement (Via Variety) that "while there is still much uncertainty with respect to the impacts of COVID-19, the safety and well-being of our guests and employees remains The Walt Disney Company's top priority…As a result of this unprecedented pandemic and in line with direction provided by health experts and government officials, Disneyland Resort and Walt Disney World Resort will remain closed until further notice."
https://www.instagram.com/p/B9hFAxEgy4W/
The move is shocking, considering this is the first time Disneyland has shut down since 9/11, and only the fourth time in the park's 65-year history that they've unexpectedly closed for any reason, according to The New York Times. The Tampa Bay Times reports that Walt Disney World has only closed its gates seven times in almost 50 years, mostly just a few days during hurricanes.
The one bright spot in all this is that Disney employees have been paid since the closure began and will continue to get paid through April 18, though it's unclear what will happen after April 18. Annual pass holders will still be expected to pay their regular monthly payments, though all annual pass end dates will be extended for as many weeks as the shutdown lasts. Hotel reservations, vacation packages, and any other park closure questions are answered on the Disney Parks blog. Disney parks worldwide, which also includes Tokyo, Hong Kong, Paris, and Shanghai, are all still closed.
It's smart for the parks to stay closed amid the shelter-in-place directives, though when a theme park closes for weeks at a time, it's a stark reminder of the seriousness of the pandemic. The good news is, if you're jonesing for some Disney escapism to take your mind of the pandemic, you can virtually "ride" any attraction in the park with one of the many 360-degree videos taken by guests while riding attractions in the parks.
Information about COVID-19 is rapidly changing, and Scary Mommy is committed to providing the most recent data in our coverage. With news being updated so frequently, some of the information in this story may have changed after publication. For this reason, we are encouraging readers to use online resources from local public health departments, the Centers for Disease Control, and the World Health Organization to remain as informed as possible.
This article was originally published on