This Disney Princess Maternity Photo Shoot Is Absolutely Magical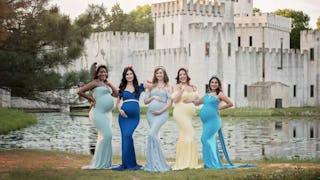 Image via Instagram/Vic and Marie Photography
These moms dressed as Disney princesses are simply enchanting
Disney princesses are no longer just for kids, as evidenced by the recent trend of princess-inspired attire made for adults. Bathing suits, dresses and lingerie have all gotten the princess treatment, and now, a stunning photo of expecting moms depicted as the iconic characters has gone viral.
Because who deserves to be treated like royalty more than pregnant women?
RELATED: The Most Gorgeous (And Most Importantly, Comfortable) Maternity Photoshoot Dresses
Husband and wife team Vic and Marie got their start as pregnancy and newborn photographers after learning they couldn't have kids of their own. The couple tells POPSUGAR they came up with the idea for a Disney-inspired shoot full of pregnant moms in the most heartbreaking way. After learning they were pregnant a year after thinking it wasn't possible, they suffered a miscarriage at eight weeks.
They explain that after taking time to process their loss, they wanted to do something creative. With the new Beauty and the Beast movie taking over theaters, their thoughts turned to Disney. And a beautiful image was born.
https://www.instagram.com/p/BSog_WmgBtl/?taken-by=vicandmariephotography
"We wanted to go outside of that box, something no one had tried to do as of yet, and then it hit me, why not do all of the princesses in a group shot, expecting sweet little babies, and showing off their beautiful bump in a creative way?" says Marie.
The photographers brought the pack of princesses to Newman's Castle in Texas for the most majestic backdrop possible. And they didn't stop with the group shot.
We have a picture-perfect Belle.
And a very realistic Snow White.
There's a Cinderella, complete with her remaining glass slipper.
And a Jasmine with totally spot-on accessories and princess-style hair.
Lastly, Tiana, who looks like she just stepped out of The Princess and the Frog.
Marie shares, "It was a fun project for me being a huge fan of the classic stories and movies I grew up to and it was a fun project for Vic because it allowed him to do something he normally doesn't get the chance to do often."
The couple doesn't want the Disney princess fun to stop with this crew of beautiful moms. "We hope that expecting mamas that see these sweet photos of mommies in a completely different way than what is normally photographed and will give them the inspiration to want to hire a photographer to take some beautiful maternity photos!"
Even if Disney princess photo shoots aren't your jam, Marie reminds us that special photos during pregnancy are very much worth it, no matter the theme. "It's such a sweet and beautiful moment in your life, a moment that not many can experience, and a moment that should be celebrated!"
We couldn't agree more.
This article was originally published on