This Disney Princess Tea Set Is A Gorgeous Pastel Dream Come True
by Thea Glassman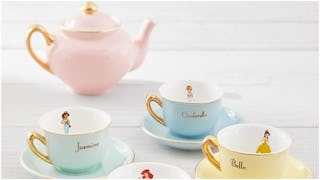 Image via Pottery Barn
This Disney princess tea set is so pretty, so pastel, and oh so elegant
Warning: after reading this post you will end up instating mandatory tea times in your house, with mandatory chocolate scones. Pottery Barn's new Disney princess tea set line is a pastel dream come true and your whole family will want to drink from these dainty porcelain cups.
And if they don't, whatever. More Ariel adorableness for you.
Whether you're a Cinderella fan or more of a Jasmine girl, this tea set is perfect for anyone who loves a princess movie from Disney's vast collection (now available to view on Disney+ for $6.99/month). It features a cotton candy pink tea pot with gold trimmings, four saucers, and four porcelain teacups – each dedicated to a different Disney princess.
A delicious assortment of bread and jam and butter and cream is not pictured here but should 100 percent be included in your family's new weekly tea time schedule. Everyone can thank you later.
Now let's take a closer look. There's a super pretty mint green tea cup for Jasmine (cue up "A Whole New World" immediately). The color is perfect with her outfit, obviously.
A dreamy purple cup for Ariel that also coordinates with her apparel. Sadly, no Flounder or Prince Eric to be found.
A canary yellow cup for Belle (now time to cue "Be Our Guest" at the HIGHEST volume possible #noregrets).
And, last but not least, Cinderella. A baby blue cup to match those baby blue magical slippers. I guessssss after tea time, we should all just go ahead and gatecrash some super swanky ball. Careful with your shoes on the way out.
It's about to get so, so fancy up in here.
Want to up your tea game a few more notches? Invest in this elegant tea cart (currently on sale!) so that you can display your new Disney princess set to the max. Also, there's room on the bottom for a tray of treats which – in case I haven't emphasized it enough – is 100% mandatory when it comes to tea time.
And, I mean, while we're on the subject of Disney, you can also snag some more fun mealtime swag for your kids. This set comes with a shatter-proof plate (because, kids) featuring a whole bunch of iconic princesses, a cute bowl with scalloped pink trimming, and a tumbler with drawings of all of our favorite royal gals. Magic wand not included — but it should be.
Are you all officially ready to move to a small provincial town in France and spend the rest of your days drinking from pretty golden cups with pretty golden saucers? Yup, me too. I'll meet you there.
Here's to you and your whole fam living your very best Disney princess lives. Belle, Ariel, and the whole royal gang would be so proud.
This article was originally published on