Stop What You're Doing And Buy These Disney Princess Wine Glasses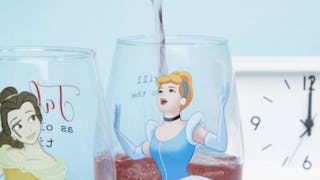 Image via ASOS
Every '90s kid needs a kitchen stocked with Disney wine glasses
What's even better than the childhood nostalgia of Disney princesses? Combining the childhood nostalgia of Disney princesses with alcohol, of course. And now you can do that, because you're going to stop what you're doing immediately and buy these Disney princess themed wine glasses.
Do it because your kitchen needs them. Do it because you need them. Just look.
See that look in Belle's eye? She wants pinot grigio. She wants it now.
That's not grape juice in there, folks.
Look, being a grownup is really hard sometimes. You have to pay bills. You have to keep your house at least clean enough to be livable. You have to run errands and go to work and make it to appointments on time — appointments that you had to set up for yourself. Ugh, it's just all a lot of work. But knowing that at the end of the day, you can sip a delicious adult beverage out of a glass adorned with a beautiful cartoon princess just makes it all a little easier to manage, right? Things might actually be OK, because you've got a glass that's as gorgeous as you are, so drink up.
And while you're on your Disney princess shopping spree because you gotta treat yo'self sometimes, you can also pick something up from a Disney-inspired fine jewelry collection, because that exists. Or you could spring for a Disney princess-themed swimsuit or lingerie set. Just get Disney princess everything. Wear a Cinderella dress to the grocery store or your next parent-teacher conference. Those people staring aren't judging, they're jealous.
We get the feeling these glasses are going to be flying off the virtual shelves, because who wouldn't want them? Just in case you aren't quick enough to grab a pair, we went ahead and found some backup options, like these ones, which are glittery so obviously you need them.
Or these gems, which are customizable, so better just go ahead and order them, too.
You know what? Just get them all. Redo your kitchen in all Disney. You deserve it.
This article was originally published on