These Disney Villain Sheet Masks Will Give You A Wicked Glow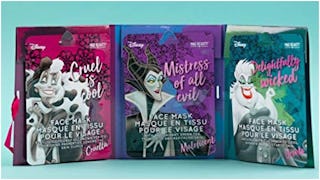 Image via Amazon
Disney villain sheet masks exist and they're delightfully evil
Does your skin need an extra boost of glow? Are you a big fan of Disney villains and secretly believe that they have far more fun than the princesses? Then step right up because Disney released a line of sheet masks that are both very wicked and very, very cute. Prepare to be the fairest one of them all.
There are three different villain sheet masks packed into this collection, which are available on Amazon and Firebox. So that means you're gonna have to figure out exactly what kind of evil you want to be that day. Decisions, decisions.
Can you rock an octopus better than the rest of 'em? Is "Under the Sea" your go-to karaoke song? Then, you're definitely going to need this Ursula sheet mask. It's made from cucumbers, which means it'll deliver plenty of moisture and vitamin C to your skin. Flounder would definitely approve.
People should probably stay away from spinning wheels when you're around. Not only will this mask turn you into the most vengeful of fairies but your skin will look ridiculously glow-y afterwards. Maleficent's sheet mask is packed with antioxidant green tea so you'll look super restful (because there's no rest for the wicked).
Cruella De Vil might be pure evil but her sheet mask certainly isn't. It's made from soothing coconut which will moisturize your skin like crazy. Because if you're gonna channel your favorite Disney villain, your skin better look completely on point.
Was that a sufficient amount of evil for you? Let's take a small detour over to the good side and see what the others are up to.
Already channeled your inner Ursula and now you want to go under the sea all over again? This Ariel sheet mask is made from cucumbers and will deliver all the moisture. Beautiful mermaid singing voice sadly not included.
Evil can wait while you try on this Belle sheet mask made from calming rose water. Now is probably a good time to throw on "Be Our Guest" and have a moment.
Here's to a new season filled with Disney villains, princesses, and super, super hydrated skin.
We are a participant in the Amazon Services LLC Associates Program and may earn fees by linking to Amazon.com and affiliated sites.