Disney World's New Peter Pan Ice Cream Floats Are Cute AF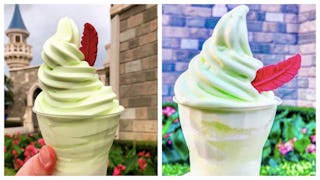 Image via Instagram/Millennial Main Street/Tradzak
Disney World is selling Peter Pan ice cream floats that taste like key lime pie
You don't really need any new reasons to book a trip to Disney World. I'll give you one more, just for fun. The amusement park is selling Peter Pan ice cream floats that taste like key lime pie, so prepare to drool…a lot.
The float is being sold at Disney World's Magic Kingdom, but you might feel like you made a quick trip to Neverland while sipping down all that soft swirl goodness. It's got sprite at the base, and plenty of key lime pie ice cream packed up at the top. There's also a little red chocolate feather, which pays a homage to the Boy Who Never Grew Up.
Important side note: it looks very, very cute. Like, it's basically begging for you to take a picture and post it on Instagram cute.
Pretty tasty looking, right? I would definitely, definitely clap multiple times for this treat.
If you're looking for even more Disney-themed snacks during your trip, the amusement park has got you covered. For starters, there are Mickey Mouse-shaped beignets, which are doused in powdered sugar and can be topped off with strawberry, caramel or chicory coffee ganache dipping sauces.
And why, yes, I will have have a delightfully yellow Pixar mousse brownie.
Or, if you're feeling particularly adventurous, there's a cinnamon roll burger which is quite literally a burger slid in between two cinnamon roll buns. It looks both disgusting and delicious.
Hopefully whatever snack you choose will be ridiculously bright, sweet, and whimsical. We could all use a whole lot more of that in our lives.