This 'Poor Unfortunate Souls' Drink At Disney World Looks Wickedly Good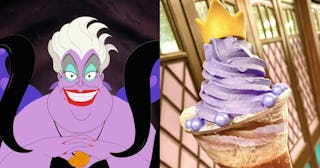 Disney/Disney Food Blog
BRB, booking a Disney World trip just to get my hands on one of these dangerously delicious looking drinks
Disney World may be the happiest place on Earth, but we'd be doing the Disney cinematic universe a serious disservice if we didn't recognize some of its darker parts — like the classic villains, without whom there would be no Disney stories.
And so, this year, Disney World is finally giving the bad guys (and girls) their due with its Villains After Hours event at Magic Kingdom, taking place on select nights in the park through July 10. And to help celebrate villains in style, the House of Mouse chefs have come up with some truly evil (but delicious) looking treats, like the "Poor Unfortunate Souls Float." Just look at this and try to squash down the evil villain laugh bubbling up inside of you.
According to Disney Food Blog, which is the absolute resource to look to for all new snacks and treats at Disney World, the Poor Unfortunate Souls Float is "made with black raspberry soft-serve and Cherry Coke garnished with a sugar crown and candy pearls." Yep, sounds delicious. So delicious, in fact, we'd almost be willing to give up our voices to be able to get to the park and get one to try.
Lucky Disney World visitors can nab one during Villains After Dark event hours only, at Storybook Treats in the Magic Kingdom. The shop is also selling another Ursula-inspire special treat called a "Body Language." It's cookies and cream mousse, chocolate cake, glacage, and merengue tentacles, all covered in a spooky dark chocolate shell. It sounds absolutely decadent, and just the kind of treat you deserve during a trip to Disney.
Even if you're not going to be able to make it to Disney World during the Villains After Hours event (bummer, we know), the park always has new sweet treats to try. We're personally big fans of the trendy rose gold cupcakes and churros, but anyone can find a Disney treat that they'll love — it's the happiest place on Earth, after all.