There's A Secret Burger At Disney World And It's Insane
by Christina Marfice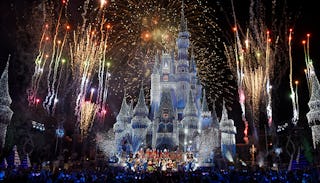 Image via Todd Anderson/Disney Parks via Getty Images
Disney World's secret menu looks so decadent and super fun
Half the fun of going to Disney theme parks is the way every single detail is addressed to make the experience as magical as possible. Even something as mundane as ordering lunch can be super fun, as the new secret menu at select Walt Disney World resorts proves.
Disney Food Blog has the scoop on the new secret menu available at World Premiere Food Court, the counter service restaurant located inside the three All Star Resorts — Sports, Music and Movies — and the offerings are pretty ridiculous. Particularly insane is the cinnamon roll burger, which is exactly what it sounds like: a burger sandwiched between two halves of a gooey, iced cinnamon roll.
The blog proclaims that it's "every bit as messy and sticky as you might anticipate," but says that "the sheer fun factor makes up for that." It also says it's easier to eat than it looks, because the airy cinnamon smashes down easily. As if that's not already decadent enough, it also comes with a slice of white American cheese and candied bacon. Oh, and it's served with fries and coleslaw. Vacation calories don't count, right? RIGHT.
In addition to that monster of a burger, you can also find poutine, fries covered in gravy and cheese curds, and a mac-and-cheese dog, which is also exactly what it sounds like: a hot dog topped with actual mac and cheese. Oh, and some bacon, because obviously. But what might be even better than the food itself is the experience of getting it.
"Secret menus are hot at Disney World right now," a representative of Disney Food Blog told Scary Mommy. They gave us some details on the process of obtaining secret menu items: "When you arrive at World Premier Food Court, go to the Roxy section and ask for the secret menu. A steel briefcase holds a fun show — including viewfinders! — before you get your ears! Perfect for the littles, and parents nostalgic for the 80s, too."
That's right — like everything at Disney, this is a whole experience. When you ask for the secret menu, you're given a briefcase filled with old school Viewmasters. You look at photos in the Viewmasters to see the food options. Why aren't all menus presented like this?
Leave it to Disney to turn a trip to the food court into another fun (and unique) family memory.
This article was originally published on