Disneyland Honors Chadwick Boseman With A Stunning Mural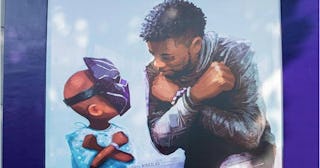 Instagram/Disneyland
Chadwick Boseman lives on at Disneyland after the park commission a jaw-dropping mural of the late Black Panther star
The world was shocked when news broke that Chadwick Boseman, the star of Disney's Black Panther, had died at just 43 years old. It was even more shocked when it was announced that Boseman had been privately battling colon cancer for four years before his death — the time in which he made some groundbreaking career moves. Now, Disney is honoring the actor in the most beautiful way: With an absolutely jaw-dropping mural at Disneyland.
The new art installation, which was painted on the side of what used to be the ESPN Zone building in Downtown Disney, shows Boseman as King T'Challa, doing a Wakanda salute, next to a young boy wearing a Black Panther Mask. The little boy's shaved head and thin arms seem to indicate that he has cancer, the same disease that took Boseman's life. It's a beautiful tribute, both to Boseman's battle, and to his dedication to visiting sick kids in children's hospitals throughout his career.
The mural was painted by artist Nikkolas Smith, who is a former Disney Imagineer. Smith shared photos and videos from the reveal on his Instagram, also writing about what the project meant for him.
"This one is special. My King Chad tribute is now on a wall on display at Downtown Disney," he wrote. "It is a full circle moment for me: my final two projects as a Disney Imagineer last summer were working on the Children's Hospital project and the Avengers Campus. To millions of kids, T'Challa was a legend larger than life, and there was no one more worthy to fill those shoes than Chadwick Boseman. I'm so thankful to be able to honor Chadwick's life and purpose in this way."
The artist is also offering prints of the mural for sale on his website, with proceeds benefiting the Children's Hospital Los Angeles and St. Jude.
Now, Boseman's legacy will live forever at Disneyland, and even though he was taken from the world far, far too soon, we hope he can continue to inspire anyone who sees this powerful tribute.