People Are Losing Their Chill Over Disneyland's Infinity Gauntlet Cup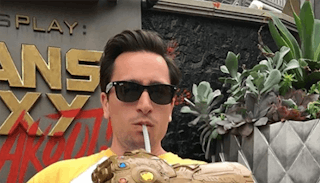 Image via Instagram/Disney.food.boy
Who needs a precious collection of Infinity Stones when you can have a novelty gauntlet filled with the beverage of your choice?
Disneyland has taken double fisting beverages to the next level with their new Infinity War sipper cups. The drink holder, priced at $20, is selling out throughout Disney's California Adventure park and visitors are having a blast drinking and posing with the Marvel novelty cups.
The drink holders are limited to one per customer — and you can fill them with the liquid of your choice. While there's currently no official word on whether that includes booze while at the park, nothing is stopping you from doing just that once you get home. Once you own this bad boy, you can run around acting like Thanos and showing off your six infinity stones, which as you know make you virtually unstoppable.
Like, just look at this thing. I would like a dozen.
As you might guess, the selfie opportunities with the sippy gauntlet are pretty amazing and also basically limitless.
https://www.instagram.com/p/BiqfGG2gsPH/?utm_source=ig_embed
The cups are being sold at carts near the Off the Page store, at the the Hyperion theater, and at the Guardians of the Galaxy: Mission Breakout ride — and they're available for a limited time only.
To repeat: you actually wear the gauntlet while you drink out of it! In other words, you have all of the power in the universe, and your thirst is quenched. Think on that for a hot second.
It's hard to tell the difference, really, between this guy and Thanos.
https://www.instagram.com/p/BipmZfNAhV3/?utm_source=ig_embed
The cups are reportedly going fast and already showing up on eBay, so if you want one, you might have to run.
This article was originally published on