From The Confessional: I'm Fantasizing About Divorce A LOT
by Cassandra Stone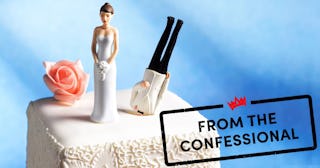 Peter Dazeley/Getty
It may seem pessimistic to 'fantasize' about divorce, but it's a common theme in The Confessional
When you're married, and a parent, sometimes simply just remaining married is a marvel in itself. While divorce is certainly not something to take lightly, sometimes the mere thought of it can bring a sense of relief when you're feeling bogged down. Meeting the constant demands of tiny humans on little sleep and feeling unsupported by your partner is a toxic combination for a marital union. It's no wonder so many of us can feel isolated, frustrated, depressed, and basically fed TF up.
The Confessional is full of admissions from those who are thinking about divorce…a lot. From everyday musings about what life would be like alone once again to seriously heartbreaking revelations — these confessions spell out some very real marital issues, point-blank.
There are plenty of people who are, for lack of a more nuanced phrase, simply just over being married. Some fantasize about living the single, independent life and having full control over their lives (and the remote).
Other confessions all have a familiar ring to them — the unequal division of labor around the house: both physical and emotional.
Confessional #25765246
"Got tired of being the only one cleaning the house & taking out the trash so I stopped hoping DH would pick up the slack. DH hasn't lifted a finger to help. House is a mess & trash cans are overflowing. Now what? I hate living like this. I want a divorce."
Confessional #25764173
"I love him and don't want a divorce but I have to get one this year for my sanity. it's not fair by any means. I'm heartbroken and it's bullshit- why couldn't he just grow up??"
Financial insecurity is, unsurprisingly, a major factor in why many spouses choose to stay, even if they're unhappy. The thought of divvying up mortgages, cars, loans, credit cards, bank accounts, and other property is excruciatingly daunting.
According to PricewaterhouseCoopers' 2019 survey, 65% of women and 52% of men said that financial matters cause them the most stress. Money is a top cause of stress for Americans in general.
Confessional #25762943
"I want a divorce but the possibility of losing my house (it's completely in my name and i bought it before we married) has been making me stay. But, lately, I don't even care anymore. He can have the house. I just want out."
Confessional #25758354
"Kinda want a divorce kinda afraid it will mess up our 3 & 5-year-olds oh and my salary is not amazing so I'm not sure I can even afford to live on my own. Fml."
Sometimes wanting a divorce doesn't boil down to any one specific reason or crisis. Sometimes, the love — and everything that makes the relationship worth it — fades away.
Confessional #25763820
"I love my DH which is why it breaks my heart that I'm gonna have to eventually divorce him. I tried but I don't like being married. It's not for me. I feel stifled, depressed, & I miss my freedom more than anything in the world. I'm so sorry."
Sex is, obviously, a huge part of any relationship but especially when you're married, with children, and have been together for a while. Finding the time (and the energy, let's be honest) to "pencil in" mutual pleasure isn't always an easy feat. Especially when it seems like some husbands could use a lesson on what "mutual" means.
Confessional #25765671
"I'm staying for the kids. I'm no longer attracted to my husband. I haven't been for at least 2 years. I don't care if we never have sex again. Giving up my happiness to save my kids from heartbreak."
Confessional #24712578
"I said yes 2 sex w/H for 3 months, only said no 3 times (sick & period). He didn't get me off the whole time & notice at all so I'm back 2 saying no 2 him. Now he's asking Y we never have sex. Really?! I hate him. I want a divorce so dang bad."
Most of these divorce fantasies end up being just that, fantasies, because the thought of sharing time with the kids is, for many Scary Mommy Confessors, a more painful reality than a loveless marriage. (Especially if it means the mother-in-law will be stepping in more often — yikes!)
Confessional #24372296
"I want a divorce but it would mean splitting custody. Since H isn't capable of taking care of the kids himself, his mom would end up with even more influence over them. I've seen the result of her child-rearing. No thanks!!"
Confessional #24238826
"I badly want a divorce but feel like my kids would be in danger staying alone with my husband. I have no evidence to use against him to restrict custody/visitation but in my heart I know they wouldn't be safe."
If these thoughts resonate or sound eerily similar to things that have run through your own head, you're not alone. Feeling like there's lopsided, non-reciprocal love is a lonely place to live within a marriage — even if spouses everywhere are feeling the same way.
This article was originally published on