I'm A Divorced Mom And I Won't Go Out When My Kids Are With Me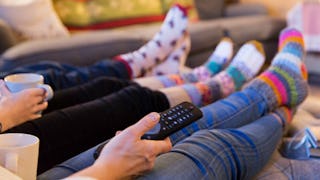 Hoxton:Sam Edwards: Gettyimages
For the past two years I've lost a big thing in my life: the privilege of spending every morning and evening with my kids.
Once upon a time, our family would all sit around the dining room table, filling out five of the six chairs around it, talking about our day and getting frustrated with each other because I expected table manners where my kids wanted to eat pasta with their hands and bust ass at the table.
Then I'd clean up while my children sat at the kitchen island doing their homework and we'd watch mind-numbing television together after arguing if we were going to watch Wheel of Fortune or Seinfeld reruns.
Sometimes we'd go snowshoeing out back or walk the dog.
There were nights when I'd lie on the sofa and read while my ex-husband took the kids outside to play basketball.
I got to physically be with my children every night, hear them brushing their teeth and come to life a bit too much for my liking at bedtime. After several threats, I'd tuck them in and kiss them five times even though they told me once was enough. Then I'd reach for the door behind me, taking one last look at them for the day.
Every morning they were here. I'd get to walk down the hall and annoy them with my love for early mornings as I greeted them in a silly voice — something they used to love when they were younger.
As they've gotten older, I still do this, but now I'm met with grunts and groans. They get annoyed with me as I open their curtains and tell them they have 15 minutes to get their butts outta bed and ask what they want for breakfast. I'd give them a little "mom pep talk," reminding them to make sure they enjoy this morning because the day will be what they make it.
But now, three nights a week, the house is quiet. The chairs are empty. The kitchen island isn't littered with pencils, paper, or laptops. There isn't a sink full of dishes to wash and I don't get irritated and feel claustrophobic when the whole family tries to fit in the kitchen at the same time.
There's no fighting over the television. The basketball sits in the garage and there are nights when the silence hurts my ears bad so bad I can't read. I can't focus on anything. Loneliness consumes me.
I wake up in the morning and head straight downstairs without looking down the hall because if I don't look, maybe I won't feel the emptiness behind the doors so much.
My social life has gotten busy since my divorce. I believe in living out my second chapter to its fullest. I deserve it, and my kids can't be everything because damn, that's a lot of pressure. Pressure I refuse to put on them. So, I stay as busy as I can when they are at their dad's house.
But when they are with me, on the nights they are mine, I decline all other invitations.
Yes, they are old enough to be alone — they are all teenagers. And they would probably be relieved to have me out of their face for a night or two.
But nothing is more important than me being with them on the nights they are under my roof. More than ever, I am acutely aware that our time together is finite and precious.
Some people look at me sideways when I tell them I'm not going to a certain event, I can't attend girls' night, or I decline a date. I don't judge single parents who do get sitters on the nights they have their kids, and I'd like the same respect when I choose to stay in with mine.
"They are old enough to be alone, right? You can't leave them for a few hours?" they say.
And my answer is no. No, I can't leave my kids on the nights they are with me because I don't want to. I love our time together.
In no time, they will be packing up their rooms and heading off on their own.
But not yet. Now, they are with me four nights a week and I intend to take full advantage of that. I want to soak this all in while I still can. I can't get that time back with them. And honestly, I'm sacrificing enough time with them now so we can have a healthier family dynamic, and they won't have to watch their parents argue every damn day. I know divorce was the right option for our family, but it's still heartbreaking having to split my time with them now.
Yeah, everyone needs time to work on themselves, have fun, and build a life outside of their children. I'm learning how to do that, and it definitely isn't all bad. It sets a wonderful example for them and makes you a better parent.
But, for me, committing four nights a week to my kids is what I need to do to be right with myself. So, no, I can't just leave them. I don't care how old they are. I don't care if your event is only a few hours or it sounds like a blast. I would rather be with my kids.
And I know the people who are meant to be in my life will understand that my time with my kids takes priority every time.
Besides, I have so many years ahead of me to be footloose and fancy free and I don't want to look back and wish I'd spent more time with my children while they were living with me. So, on 'my days' I will be wherever my kids are, and everyone else will have to adjust.
This article was originally published on