Hospital Gives Kids Mini-Cars To Drive Into Surgery To Reduce Stress And Anxiety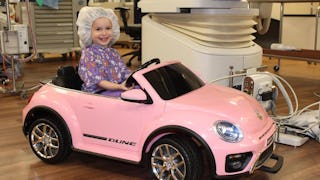 Image via Tenet Healthcare
At this California hospital, pediatric patients can enter their surgery rooms in style
A California hospital has found a pretty cool way to ease the anxiety of kids who are nervous before surgery, which proves the art of distraction can do wonders. The hospital's littlest patients are given mini-cars to drive to the operating room. How sweet is that?
Doctors Medical Center in Modesto, California, recently acquired a miniature pink Volkswagen Beetle and a black Mercedes for kids heading into surgery. The goal is to help reduce the stress and anxiety for the young patients, which makes the experience "less scary" for everyone involved.
And these aren't just plain old mini-cars, they're fully loaded mini-cars. Both the Mercedes and the Volkswagen are equipped with a stereo with preloaded music and an MP3 player, which can be operated by the mini-drivers themselves.
Both cars also have working headlights, backup lights, and dash lights. The doors open and close, the seatbelts perform their function, and of course — there's a horn in each car. Anyone who stands in the way of these kids driving themselves to surgery better move it or lose it! The cars are for patients ages two to seven.
The idea of adding these cars to the pediatric unit of Doctors Medical Center was brought forth by Kimberly Martinez, a pre-op nurse. After doing a little research, she found there were major benefits that left a lasting impact on the children using them.
Surgery can be a terrifying prospect for any patient of any age — but especially small children, many of whom have likely never experienced a surgical procedure before. Being away from your parents, taken to a sterile, cold room with a bunch of strangers in masks around you, and weird-looking equipment at every turn can easily lead to kids feeling anxious, worried, and scared.
Since most hospitals don't have mini-cars for kids as an awesome mode of distraction prior to surgery, there are plenty of ways parents can help soothe their kids' fears. According to KidsHealth.org, preparing kids for the procedure by providing information and explanations can help them feel less anxious about anesthesia and surgery.
"The key is to provide information at your child's level of understanding, correct any misunderstandings, and get rid of fears and feelings of guilt," the site says. "Help your child understand why the surgery is needed and to become familiar with the hospital and some of the procedures he or she will undergo."
Kids follow our feelings and behaviors, too. If mom or dad are anxious, they're likely to pick up on it and feel anxious too. The best thing we can do for our kiddos in situations like these is to remain calm, helpful, and informative.
And if your child's hospital has a few Power Wheels in residence, that helps too.
"When the children find out they can go into the operating room riding in a cool little car, they light up and in most cases, their fears melt away," Krista Deans, Communications Manager for Northern California Group of Tenet Healthcare, tells Scary Mommy. "In addition, when parents see their children put at ease, it puts them at ease as well. It can be traumatizing for a young patient to be peeled away from their parents as they head into surgery. This truly helps everyone involved."
This article was originally published on