Doctors Perform Emergency C-Section On Woman Who Had Already Delivered The Baby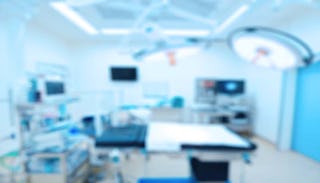 Doctors perform unnecessary c-section on mom who had already given birth
Imagine laboring for 36 hours and finally giving birth, only to realize doctors had somehow missed the baby emerging from your body and performed a c-section: right after your baby was born vaginally. It sounds like a far-fetched nightmare, but according to one mom, it actually happened.
Amber Hughes was 30 weeks pregnant when after 36 hours of labor she was being wheeled into an operating room at Leicester Royal Infirmary. She claims doctors looked "baffled" when they cut her open and found no baby. The mother had given birth naturally at the same moment that her c-section began, and apparently the baby emerged undetected under the surgical sheet. She claims the doctors were "looking" for the baby for a good two minutes before they realized he had been birthed vaginally and was on the table. His cries finally alerted them.
WHAT?
"It was horrific, Hughes told the Daily Mail. "I was expecting my bundle of joy to be passed to me, but instead I watched panic spread over doctors' faces. I didn't even receive an apology. The doctor just explained that my baby had already began his descent in the birth canal when they cut me open and it was an odd situation."
Hughes was warned she may have a premature birth when she lost her mucus plug at 24 weeks. Her water broke at 28 weeks and 16 days later she went into labor. After 36 hours, doctors began to worry about an infection and decided to go the surgical route. That's when little Olly was born, undetected. He was three pounds six ounces. He had a five week hospital stay but is now perfectly healthy.
"I'm thankful my baby is okay, but we'll never be able to forget the day the doctors lost our baby," Hughes said.
"The decision to carry out an emergency caesarean is never taken lightly but we thought it was for the best in this case,"Elaine Broughton, head of midwifery for Leicester's Hospitals said."We're looking at the chain of events in detail and will share our findings with the parents. We're sorry that this happened but glad that mum and baby are doing well."
Okay, nobody's perfect, accidents happen, and this is a truly odd scenario that presumably shocked all the doctors in the room. But oh my God. A vaginal birth and an emergency c-section simultaneously? This just made my emergency c-section look like a walk in the park.