COVID-Positive LA Dodger Ignores Protocols To Celebrate With Teammates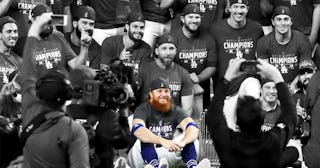 Scary Mommy and Ronald Martinez/Getty
After he tested positive for COVID-19, Justin Turner was removed from Tuesday's MLB game. He later returned to the field and posed for photos without a mask
This year's baseball season has been able to move forward because of a number of strict health and safety protocols that have been put in place to protect players and their families. They've all been living, traveling, and playing in bubbles to limit sources of infection. On top of that, players have been tested regularly for COVID-19, and all agreed to follow even more safety protocols in the event that they test positive.
But this week, the L.A. Dodgers' Justin Turner flouted all those safety measures and put many other people at risk. He was removed from a Tuesday night game after the seventh inning when the team received word that he had tested positive for COVID-19, and was placed in isolation at a doctor's office. But after the Dodgers won the game, Turner broke his isolation and returned to the field. He was wearing a mask at first, but took it off to pose for photos with the rest of the team.
"Immediately upon receiving notice from the laboratory of a positive test, protocols were triggered, leading to the removal of Justin Turner from last night's game," MLB said in a statement released Wednesday, where they explained more in detail the league's COVID rules.
The statement continued, "Turner was placed into isolation for the safety of those around him. However, following the Dodgers' victory, it is clear that Turner chose to disregard the agreed-upon joint protocols and the instructions he was given regarding the safety and protection of others. While a desire to celebrate is understandable, Turner's decision to leave isolation and enter the field was wrong and put everyone he came in contact with at risk. When MLB Security raised the matter of being on the field with Turner, he emphatically refused to comply."
Turner is now the subject of an investigation, and under an agreement between the MLB and the players' association, he could be subject to discipline. However, there are no rules in place, or precedent for what kind of discipline he might receive.
Dodgers team president Andrew Friedman also spoke to press about the incident, but seemed more concerned with how it made the team look in headlines than the fact that a player knowingly and willfully put his teammates at risk of contracting COVID-19.
"I haven't seen the pictures," Friedman told ESPN. "If there are people around them without masks, that's not good optics at all. I haven't seen them, so it's hard for me to speak to it specifically."
If you ask us, people's health and safety is a little more important than "optics."