The Reason This Dog Only Eats Half Her Food Is Making The Entire Internet Sob
by Christina Marfice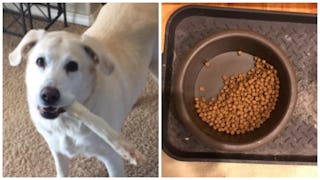 The story of the dog food left in this bowl will hit you right in the gut
Hope you didn't do your makeup yet today, internet, because you're about to ugly cry.
A viral tweet has the whole internet sobbing, and for real good reason — this story is sadder than Old Yeller, Where the Red Fern Grows and Marley & Me combined. Dogs are too good and pure for this world. That's pretty much the gist of it.
Filmmaker Easton Dufur had two labs, Stitch and Cookie. Look at them — completely adorable.
"We got Stitch when I was in kindergarten," Dufur told Mashable. "Then around the third grade is when we got Cookie. We felt that Stitch should have some company. But they were like Batman and Robin. They were always together. They always always got along and always were playing with each other and taking care of one another."
But earlier this month, Stitch died. Dufur tweeted a photo of their food bowl, along with a story.
"So we only have one food bowl for my two labs," he wrote. "And my dog Stitch trained my other dog Cookie to only eat half the food that's in the bowl. So ever since she was young she knew to leave half the food so Stitch can have some (he liked to make sure she would eat). Now Stitch recently passed away. And this is Cookie's first time alone. So since Stitch is gone, I've been feeding Cookie less food. Well before I went to bed, I wanted to check to see if she ate. And so I did, and she still left half her food there so Stitch can eat."
Go ahead. Take as much time as you need. Have a full-on breakdown; Lord knows Twitter did.
https://twitter.com/jetpack/status/874439850283368448
https://twitter.com/jetpack/status/874665950775214081
Losing a dog is truly one of the worst things on this planet. I said goodbye to my Lolita just before Christmas, and six months later, a story like this still feels like a solid right hook to the heart. Those little guys just have a way of tail-wagging right into your heart, which is probably why this story is resonating with basically everyone on the internet.
Dufur told Mashable that Cookie is hanging in there after the loss of her best friend. "We still are making sure that she is getting love and comfort that she needs right now so she is doing well."
What did we even do to deserve dogs?