How One Dog Helped A Grieving Family Heal
by Jodi Whitsitt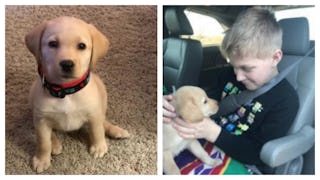 Jodi Whitsitt
I want to tell you the story of Charlie and how he came to be part of our family. As I've written before, my son — Gman — has had a really hard time without his dad here. Not only has he lost the man he most admired, but also he's found himself the only boy in a house full of girls. Before his dad died, I would often refer to them as "my boys."
"There's my favorite boys!" I'd exclaim as I walked into a room where they were both playing a video game or watching a show we girls had zero interest in viewing. It was just my way of expressing my endearment to the man I loved and the boy who would one day grow to be an equally amazing man. They both owned my heart.
Related: 100+ Popular Girl Dog Names That Will Keep Her Tail Wagging For Years To Come
The void for Gman is different — not bigger or worse, but different than the one the girls are experiencing. There's an extra layer of loneliness he feels as a young boy without his father. He wants to build fires, learn about tools, wrestle around, shoot some hoops — all the things boys often do with their dads. Although I can and will do these things with him and for him, it's not the same. I can't be a dude. I'm sure to ruin things with maternal worry about the danger of fire instead of providing the "Tim the Tool Man Taylor" testosterone moments he craves. It's almost worse for him in some ways when I try to fill that role. Moms just aren't very cool that way.
Gman's counselor suggested I find a family friend or trusted neighbor to spend a little time with him once a month just doing "guy stuff." Although we have wonderful friends and neighbors, they have their own families and busy schedules. It just didn't pan out.
I agonized over solutions to this problem. And then it crossed my mind that he needed a fun and loyal best friend. A "bro" he could trust, share his feelings with, and love with his whole heart. A male companion that would love him unconditionally. He needed a dog!
Yes, we already have a dog, but Maggie is, well…. she only likes the girls. She doesn't really play and basically she's like a cat. Aloof. Not at all what I had in mind for Gman. I mean, we love her, but she's not exactly loyal or fun. And she's yet another girl.
I began to research service and therapy dogs. Maybe there was a program for kids dealing with grief? Or maybe a program for kids with Attention Deficit Disorder? Or both? Although I didn't find such a program, I did find research validating my idea.
I read how a well-trained dog could really help Gman. How the responsibility and companionship could not only help him emotionally, but also aid him with some of his ADD struggles. And so I started the search. Which breed, rescue vs. breeder, puppy or older dog? I talked to our vet and obtained advice and a long list of questions to ask.
I worried, though, because that's what I do well. I worried about the cost and future costs. I worried about the time and care it takes to own a dog, let alone two dogs. Food, vet, boarding, unexpected dog emergencies, more messes and more work.
I went over all of this in my mind for weeks. And then one day, I found myself crying. I wanted my partner to help me with this choice. This was a huge decision! Even though I've made big decisions without my husband before, for some reason this one felt different. I desperately wanted to talk with him about this, get his opinion, and have him help me make the right choice! I didn't want the heavy weight of parenting solely on my shoulders.
Before I committed to the decision of bringing Charlie into our family, two big things happened to seal the deal. First, when entering the middle school for Lolo's parent-teacher conferences, we saw a father and young son race to their car. They were both laughing as they raced, joy on their faces. I watched Gman watching them, heartbreak in his eyes. He looked up at me and simply said, "I really miss Daddy."
The second thing happened maybe a week later when the school called to say Gman was inconsolable. I was told he was sad but wouldn't tell anyone what happened. At first I assumed it was friend-related. He has a tender heart and a short fuse when frustrated or misunderstood. It was suggested I come get him. He wouldn't talk until we were in the van.
"There was a soccer pro in PE class today. And then I started to remember how Daddy used to take me to soccer," he cried.
"I miss Daddy so much!"
I scrapped my plans for the rest of the day and canceled piano lessons scheduled for that evening. My new priority was to love on him and nothing else. I was going to hold him, stroke his hair, and remind him how much I love him. There are times when I feel guilty for not working a "real job" yet. And then things like this happen and I'm so grateful to be available to them as grief sneaks up and knocks them down. This is my "real job" and it's an important one.
So, with all that in mind, I made the final decision to get a boy dog for Gman. Although I am a huge fan of rescue dogs, I needed to know the history of this dog. I needed to know it would be healthy (can you imagine if his dog died or was sick right away?!), that its temperament could be trusted and that it would be a really good fit for our family. I ended up with a local breeder used by a non-profit organization that trains service dogs for vets and children with autism. I figured if they trust this breeder with their dogs, then I could too.
I involved Gman in everything. I didn't want this to be a surprise, but rather something he'd take ownership and responsibility for from the beginning. I explained to Lolo and B that Gman needed to take the lead on this. Although we would all love our new dog and help out, this was to be Gman's dog. He would choose the name, take the lead at training classes and the responsibility of picking up poop. (This one did not break Lolo's heart.)
The moment Gman met Charlie and we started the drive home, tears ran down his face.
"Are you sad?" I asked. "What's wrong?"
He brought the puppy up to his neck and buried his face into its soft fur.
"Tears of JOY," Gman replied.
Since bringing the puppy home, I can now report what an amazing and wonderful decision this has been. Not only for Gman, but also for our whole family. It has given each of us an extra outlet for love. (The Queen song is running through my head right now. In fact, it prompted me to Google the lyrics. Yes! Find me (us) somebody to love!
And isn't that so true? When we're feeling lonely, sad, overcome with grief, it helps so much to pour love into someone else. To care for or serve others fills up our empty spaces with love and joy. I've observed so many joyful giggles and smiles from Gman since we brought Charlie home. Now he has his buddy, his "dude time" and it's a very good thing. And once again I enter a room and say, "There's my favorite boys!"
This article was originally published on