Loyal Dog Adorably Joins His Little Human In A Time-Out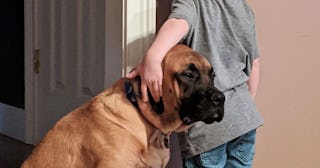 Courtesy of JILLIAN SMITH
The 6-month-old Mastiff joined his human bro during his punishment
We don't deserve dogs. They epitomize unconditional love and, if you needed further proof, check out this Very Good Boy serving time with his little hooman when he received a dreaded time-out.
Three-year-old Peyton Smith landed himself in a time-out for fighting with his big sister, Ryleigh. He walked to the corner and that's when the family's English mastiff, Dash, decided he couldn't possibly make Peyton do the time without him.
"They have a great relationship, two peas in a pod," Peyton's mom, Jillian Smith, tells Scary Mommy. "We call them the 'sidekicks.'" Smith says she gave Peyton a choice where to do his punishment. "We gave him the option to go to his room or time out and he chose to stand in time out. He was only in time out for, like, ten seconds before Dash came and sat next to him," she said.
Smith shared the adorable pic on Facebook, captioning it "When you're in time out but your best pal won't let you serve your time alone 😂." It's been shared 47,000 times since she posted it in January, and it's clear everyone else thinks Dash is as awesome as Peyton.
"Peyton dresses Dash up in superhero costumes and they act out fight scenes," Smith told TODAY. "I don't think Dash understands what's happening, but he allows Peyton to do whatever." She also added if she ever needs to know where the dog is in the house, she's bound to find him with her son. "If I have to know where Peyton is, I'm like, 'Where's the dog?' " she explained. "They're always together."
There's nothing better than watching the bond that forms between kids and their pets. Our dogs are the first thing my son kisses when he gets home from school (I'm always last) and the last ones he says goodnight to when he goes to sleep. It's one of the best relationships because it's built on unconditional love, trust, and a mutual adoration for one another.
The photo is hilarious because little Peyton isn't much taller than Dash, and it'll definitely be a while before he outweighs him (if ever). A full-grown Mastiff can weigh in at 230 pounds, so if Peyton ever needs protection from dangers more serious than a time-out, Dash will most likely be of enthusiastic assistance.
"Luckily I had my phone and was able to get a picture when Peyton put his arm around him," Smith added. We're so glad she did.
This article was originally published on