This Dog Sled Racer's Dog Bios Are Your New Favorite Thing
by Julie Scagell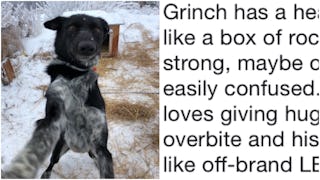 Image via Twitter/Blair Braverman
It's impossible not to fall in love with all of them
Dogsled racer Blair Braverman, a nonfiction writer and correspondent for OutsideMagazine, has a team in the Iditarod dog sled race this year and she would like everyone to get to know them a bit better. Not the humans involved, but her dogs. So, she created a Twitter thread introducing each one that's both heartfelt and absolutely hilarious, and will leave all who read it cheering for them on race day.
For those of you unfamiliar, the Iditarod Trail Sled Dog Race is an annual long-distance race that runs in early March from Anchorage to Nome, Alaska. Mushers (the individuals on the sleds) and a team of 16 dogs cover the 938 miles in eight to 15 days.
So, Braverman thought it would be a good idea for folks to get to know them, one by one. Their hopes, their dreams, their political affiliations, and all sorts of other fun facts about them. Here is just a snippet of the awesomeness, but you'll definitely want to check out the thread in its entirety.
First up is the mom of the group, Pepe.
Braverman also added that "If Pepe leads us the 1000 miles to Nome, her own mother (a legendary leader who retired to be a pet last year) will be waiting for her at the finish line." Because that's what mothers do.
Next up is sweet Flame.
She made sure to include a "fun fact" about Flame who apparently isn't too jazzed about human babies but loves all other varieties. Bless.
Then, there's Flame's half-sister, Jenga, who is a serious "Boss Bitch." We are very much here for Jenga.
Up next is my personal favorite, Grinch, who's a few cards short of a full deck, has an overbite, and limbs that "are fitted together like off-brand LEGOs."
Also, he "only runs south." I die.
Next is two-year-old, Spike, who was born with the biggest head of the litter.
Spike was also an early "advocate for transgender equality" so we love him just a little bit more.
Colbert, the only Catholic of the bunch, is the resident pack cheerleader and is also scared of heights.
Boudica is the lover of the group, enjoys kissing, and scores at the top of Braverman's SDSI (Sled Dog Softness Index) which is based on the "softness of individual hairs, and overall fluffiness."
I really, really want to be friends with this woman.
Braverman then takes time out of her busy schedule to rate the SDSI of all of her pups.
She does this because she wants us all to be happy. Here are a few gems.
It's clear how much love and admiration Braverman has for her dogs and is also willing to educate the public, some of whom voiced concerns over the relative safety of dogs being put through such a long and physical race. She explained the dogs are bred for racing and if for some reason she begins to train a dog and they don't enjoy it, the dog becomes a pet of the family. She also said the dogs are given around 10,000 calories a day, plenty of rest, and as you can tell by her stories, an abundance of love.
Good luck in March and we will be cheering you and all your lovely pups on!
This article was originally published on