20 Gifts For Anyone Who Likes Dogs More Than People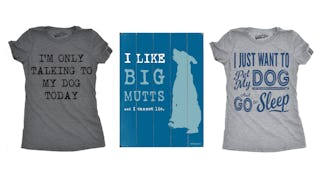 Images via Walmart
There is nothing like the pure, unconditional love of dogs.
They're always excited to see us, and always sad to see us leave. If it were up to them, they'd literally follow us everywhere. And they even go out of their way to cheer us up when we're feeling down.
They're also an excellent excuse to avoid talking to people at parties. In fact, dog people know that puppers are cooler than most people.
Here are some must-haves for the people in your life who love dogs:
This "Easily Distracted" Tee speaks the truth. And I have no shame in how easily distracted I am by them.
A "Because People Suck" Mug is perfect for people who get it. Stay woke.
This "Life Is Better" Tote Bag features one of our all-time favorite dogs and is great for lugging stuff to and from the dog park.
A "Home Is Where" Magnet is a sentiment that any dog owner/lover will appreciate.
These Corgi Planters are adorable and are sure to liven up any space with some cute pupper plants.
This 17 oz. "Dogs Make Me Happy" Water Bottle also says "You, not so much" in fine print at the bottom, so this is basically my life motto.
An "Only Talking To My Dog" Tee is a must-have for introverts who don't have energy for anyone but our four-legged friends.
This "Dogs Welcome" Dish Towel makes it clear that all dogs are welcome and humans are merely tolerated.
This "Pug Life" Hoodie is an adorable tribute to moms who love rap music almost as much as we love our doggos.
An "I Like Big Mutts" Sign is another great gift for anyone with a big dog and a sense of humor.
This "Crazy Dog Lady" Tote Bag is perfect for letting people know that there's a better alternative to being a crazy cat lady.
An "I Just Want To" Mug is a must-have for those of us who have two main passions: Drinking coffee and rescuing dogs.
This adorable Frenchie Sheet Set is a great gift idea for people who even dream about rescuing more dogs.
An "If I Can't Bring My Dog" Tee makes your priorities very clear to the people around you.
This 17 oz. Frenchie Stemless Glass has a French Bulldog doing a stretch. Perfect for dog lovers who also love wine.
Or there's this 17 oz. Boston Stemless Glass for any proud owners of Boston Terriers.
A Corgi Bottle Stopper is another great gift for people who love to stay home with their dog and drink wine.
This "Be Persistent" Tote Bag reminds us how tenacious puppers can be… especially when it comes to food. Just like me, to be honest.
A Hooded Plush Throw is a fun, wearable blanket for kids who are growing up to love doggos, too.
This "I Just Want To" Tee says everything we're thinking: That we just want to pet our dog and go to sleep. That is the gospel truth right there.
Dogs are loving, sweet, and won't ever judge you for your life being a mess. Is there any wonder why we like them more than people?
We may earn fees from purchases made via links on this page and affiliated sites. All opinions are our own.
This article was originally published on