Dolly Parton Hasn't Gotten The COVID Vaccine She Helped Fund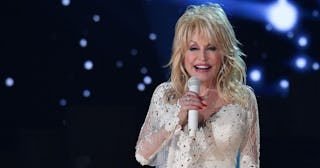 ROBYN BECK/AFP/Getty
Dolly Parton wants others to get the vaccine before her
National treasure Dolly Parton, who just turned 75 but will forever look 35, is now eligible for the COVID-19 vaccine. But she admitted this week she hasn't gotten the shot yet, even though she donated $1 million to its development.
The world learned late last year that the "9-to-5" singer donated the money to Moderna from her Dolly Parton COVID-19 Research Fund. According to The Guardian, Parton also funded research into COVID-19 treatments, including a convalescent plasma at Vanderbilt University. Parton herself has been credited in a number of research papers about the virus, because their studies were conducted with money from her large donation. But that doesn't mean the icon thinks she deserves the shot before anyone else.
"I'm going to get it, though," she told CNN. "I didn't want to jump the line. I didn't donate the money so I could be protected. I did it for everybody."
According to the CDC, approximately 20.7 million people have received at least one dose of a COVID-19 vaccine, and that about 3.8 million people have been fully vaccinated. The Moderna vaccine requires two shots 28 days apart. "Based on evidence from clinical trials, the Moderna vaccine was 94.1% effective at preventing laboratory-confirmed COVID-19 illness," the organization said.
Parton told BBC's The One Show she felt, "very honored and very proud" that her donation was used for the Moderna vaccine. "I just felt so proud to have been part of that little seed money that will hopefully grow into something great and help to heal this world," she said. "I'm a very proud girl today to know I had anything at all to do with something that's going to help us through this crazy pandemic."
Parton isn't one to stand around waiting. Until she can get the vaccination, she recently used her famous song, "9 to 5," and reworked it for a Super Bowl add as "5 to 9" for website building and e-commerce platform Squarespace.
"I thought, well, why not?" she said of the ad and new lyrics. "You know, everybody knows the song as it is, but like me, so many people are working 9 to 5 and 5 to 9, all the time."
She continued: "A lot of people through the years have wanted to change the lyrics to fit certain things they're doing. I really thought that was a wonderful thing, especially for Squarespace. They're so into people, new entrepreneurs working after hours to start their own businesses," Parton said. "'5 to 9' seemed to be a perfect thing when they pitched it."
Here's hoping Parton gets the vaccine soon because we need her to be protected forever.