Dolly Parton Is Doing 'Grace And Frankie' & We're Here For This '9 To 5' Reunion
by Julie Scagell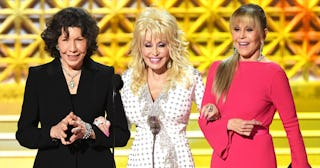 Kevin Winter/Getty
Dolly Parton will rejoin her 9 to 5 co-stars much to everyone's delight
If you loved the '80s movie 9 to 5 starring Dolly Parton, Lily Tomlin, and Jane Fonda, you'll really love this good news. It sounds like the trio may be back together again — this time on Tomlin and Fonda's hit Netflix show Grace and Frankie.
Parton confirmed this week that she'll be making an appearance on the Netflix show with her former 9 to 5 costars, making our '80s hearts soar. "I've been trying to do Grace and Frankie for years," the country legend and philanthropist said in an interview on the U.K. show Lorraine. "We worked so well together on 9 to 5, it's a crazy wonderful show."
The movie 9 to 5 became a cult classic for decades and was the singer's film debut when she played secretary Doralee Rhodes. In it, they put their sexist boss, actor Danny Coleman, in his place by kidnapping him (spoiler alert — no one misses him) and running his business empire themselves — much to the appreciation of all the women in his office. Parton nails the role perfectly and the rest, they say, is history.
Parton also said she's been trying to get on the show for quite some time but the pandemic put a hold on those plans, "We've been trying to write me in somehow. So when it's safe for us to actually do a production when they're back, I'll probably get around to doing that."
The "Jolene" singer hasn't let the pandemic slow her down too much. In the past year she donated money towards the Moderna vaccine, famously turned down the Presidential Medal of Freedom (not once but twice), remade "9 to 5" for a Squarespace Super Bowl ad, turning it into "5 to 9," released her latest book, titled "Songteller: My Life in Lyrics," and starred in a Netflix holiday movie — all at the age of 75.
For her part, her co-star Tomlin is thrilled at the prospect of working with Parton again, telling Today in an interview, "We're always hoping that will happen. We have a great role for her this time, I think she will do it. I'm just hoping she will."
Tomlin continued: "She's extremely busy, she's always writing books or writing songs…she's phenomenal," Tomlin said of why it has taken so long to get Parton on Grace and Frankie. "And we hope she can do it and we think she can do it by remote."
The three have managed to stay connected over the years. Parton and Tomlin reunited in 2017 at the SAG Awards when the singer presented the Lifetime Achievement Award to Tomlin for her comedy career. All three actors then reunited later that year to announce the best supporting actor in a limited series or movie award at the Emmys.
Grace and Frankie's latest season, like many others, has been delayed due to the coronavirus pandemic. They are expected to resume production in June for their seventh, final, and Dolly-filled season.
This article was originally published on