A New Dolly Parton Resort Is Coming And It Looks Gorgeous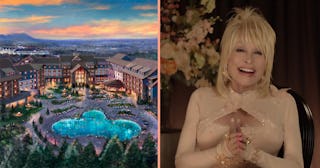 Dollywood/NBC
It's called Dollywood's HeartSong Lodge and Resort, and it's slated to open in 2023
Simply put, we f*cking love Dolly Parton. The singer, actress, and all-around badass not only literally saves the lives of children and helps fund live-saving vaccines, but she also continues to grow her massive empire — including the expansion of Dollywood, her incredibly popular amusement park in Tennessee. On Thursday, Parton announced they're building a new resort as part of Dollywood's $500 million investment plan. And for Parton, the expansion is, in part, her way to make other peoples' lives more enjoyable.
"I have to keep working at it, and I'm excited about it. It keeps me alive; keeps me feeling young, whether I am or not," Parton told Knox News. "I just say, 'What all can I do while I'm still around to make my life and other people's life more enjoyable?'"
The new resort is called Dollywood's HeartSong Lodge and Resort, a nod to Parton's 1994 song; and it's slated to open sometime in 2023 next to the existing Dollywood's DreamMore Resort and Spa, which opened in 2015.
"It's going to be like the (DreamMore Resort and Spa) in that there'll be wonderful things outside to do, and it's almost like an attraction of its own," Parton said.
HeartSong Lodge and Resort will pull in some of the most beautiful aspects of the Great Smoky Mountains National Park. Renderings of the five-story, 302-room resort reveal a rustic retreat with a range of accommodations and amenities.
According to Dollywood's website, the five-story, 302-room resort will feature themed suites and lofts, and many of the room will boast balconies. The four-story, 26,000-square-foot Smoky Mountain lodge, specifically, will welcome families with its floor-to-ceiling, lantern-inspired windows, indoor and outdoor meeting space, communal firepit, screened-in porch, and an outdoor cove perfect for families to gather. The resort will also boast a two-story HeartSong Event Center.
"Tucked away in a beautiful cove in the rolling foothills of the Great Smoky Mountains, Dollywood's HeartSong Lodge & Resort is a well-appointed, reimagined property that features a variety of accommodations and amenities," the resort's description states. "Our 'reimagined lodge' is designed to bring that intangible feeling to life, honor everything that makes the Smokies special, and invite you to experience the wonders of finding your own heartsong."
For Parton, her goal is to make the new resort a sought-after family destination.
"We just want to bring people in and want them to stay like a family destination," Parton said. "When they do come, they can stay as long as they want, have something to do all the time and have a beautiful, comfortable, safe place to stay."
Over the next 10 years, The Dollywood Company will invest half-a-billion dollars across its properties.
"I wanted to give jobs to the folks who live here and I wanted to give visitors another reason to come and experience the beauty of the Smoky Mountains. We celebrated our 35th season last year, so I think it is fair to say we've been able to do that," Parton said, per Music Row. I'm so happy with what we are doing to make sure our guests have a great season this year, and being able to announce the new HeartSong Lodge & Resort is just one more way we're going to be able to help families reconnect, explore and discover together."
More than 3 million people visit the Dollywood parks annually, with the Pigeon Forge parks the state's most-visited ticketed attraction.
"From the time we announced Dollywood's DreamMore Resort in 2015, we have seen the entire region emerge as one of the nation's leading family vacation destinations," said Eugene Naughton, President of The Dollywood Company. "We've been able to help Dolly achieve the dreams she had more than 35 years ago, and with this announcement today, we're going to be able to put wings on even more of her dreams."
We can't wait.