Georgia Sued For Making Domestic Violence Victims Pay A Fee For Not Pressing Charges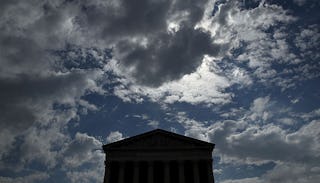 Image via Win McNamee/Getty Images
In Georgia, anyone who reports domestic violence and declines to press charges has to pay a fee
A domestic violence case can be harder than others because of the close relationship of the people involved. Some judges are making these stressful situations worse by forcing domestic violence victims to pay administrative fees if they refuse to testify against their alleged abusers.
Testifying in court can be a terrifying and dangerous process for domestic violence survivors, which is one of the reasons why 80 to 90 percent of domestic violence victims recant their original statements. Unfortunately, courts in Columbus, Georgia are punishing victims, specifically women, for refusing to testify by ordering them to pay fines.
A federal lawsuit filed this week by the Southern Center for Human Rights details the situation. It claims "that domestic violence victims in Columbus are required by city ordinance to help law enforcement prosecute their attackers. If they don't — even if they did not report the abuse — they must be fined," reported the Atlanta Journal‑Constitution. If the victim asks that the charges be dropped or refuses to testify, then they're forced to pay a fee of at least $50 "without any consideration of the circumstances of their cases or their reasons for desiring not to prosecute," according to the lawsuit.
[shareable_quote] "…domestic violence victims in Columbus are required by city ordinance to help law enforcement prosecute their attackers. If they don't — even if they did not report the abuse — they must be fined."[/shareable_quote]
Our legal system wasn't devised to punish the victim, which is exactly what these fines do. "The city's policy toward women experiencing domestic violence sounds like something out of the 19th century," shared Sarah Geraghty, an attorney with the Southern Center. "It's a holdover from an era in which women were blamed for male violence."
The federal lawsuit stems from an abuse case last June. Cleopatra Harrison is 22 and earns $12 an hour as a cleaning and food service contractor. She called 911 after her boyfriend allegedly punched and choked her to the point that she lost consciousness. The young woman escaped to a friend's house before police arrived. After detailing the attack to police the next day her boyfriend was arrested and charged with felony aggravated assault.
Then the court case started, and while Harrison confirmed the details of the attack to the court, she refused to help prosecutors further. So the judge, Michael Cielinski, imposed a $150 fine and told the victim she'd be arrested if she didn't pay within a week. Before she could leave the courthouse an officer involved in the case, Michael Lincoln, allegedly shoved Harrison against a wall, handcuffed her, and arrested her on a charge of giving false information. Not only was this victim shamed she was then humiliated and fined.
Sadly, it isn't the only case like this in the Georgia town. According to the Southern Center, investigators found these additional cases of women being fined when they opted out of testifying:
Judge Cielinski charged a woman $200 in May after she was allegedly beaten with a handgun by her boyfriend and left on the side of a road even though she hadn't called the police.
Another woman was charged $200 after she asked that charges against her boyfriend be dropped. He allegedly fractured her finger during an argument that a neighbor overhead and called police about in July.
Judge Cielinski charged a woman $125 when she decided not to press charges against her boyfriend after a domestic dispute. He allegedly poked her in the eye and stole her debit card.
It's hard to tell how often this kind of victim blaming occurs across the country because domestic violence cases are prosecuted at local levels. Earlier this year a Florida judge berated and jailed a domestic violence victim who didn't show up to testify against her alleged abuser. Some court systems, understanding how dangerous and challenging it is for victims to testify, have moved away from victim testimony. "Studies show that people experiencing domestic violence are most at risk of harm when attempting to leave their relationship," the Southern Center explained.
Three women are murdered every day by a current or former partner in the U.S. Women are terrified to press charges because time and time again, the system fails to protect them. There are so many reasons why women fear and fail to press charges. It's not up to the state to decide that they have to, until they start doing a better job of keeping them alive.