Dad's Epic Lunch Bag Art Helps His Shy Son Make Friends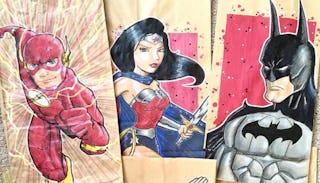 Image via Instagram
Artist dad adds major flair to his son's lunch bags for the sweetest reason
When Dominick Calabo noticed his son had a little trouble making new friends, he decided to put his superpowers to use. The artist and father began drawing a new image on his son's lunch bags in the hopes that they might serve as an ice-breaker and conversation starter. Now, his creations have become an Instagram sensation.
Bag lunches can be pretty boring, at least when it comes to what's inside them. But thanks to his talented dad, Nicholas Calabo's bag lunches are anything but.
The 12-year-old's father draws a picture on every one of his son's lunch bags, usually a superhero or comic book character, and has been doing it for three years now.
And it's all out of fatherly love.
He explained to the Huffington Post, "I noticed he was a bit shy when it came to talking to others. So by creating a piece of artwork to 'break the ice,' kids would come up to him and start talking and hopefully a conversation, or better yet, a new friendship, would start."
Well, Nicholas is in middle-school now, and he still makes requests for specific characters. He's clearly a fan of his dad's work.
"He's broken out of his shell because of this, and I like to think that I had a hand in helping him do this with these bags," Dominick wrote on Imgur recently.
He often makes the illustrations timely, like when he focused on scary characters in the weeks leading up to Halloween, or just this past Friday the 13th, when he paid homage to the scary-date-based horror franchise.
When Carrie Fisher passed away, Calabo made sure to honor her in his trademark fashion.
Good for Dominick for using his talents to not only brighten his son's day, but also to help him adjust to school. Over the years he has drawn around 400 illustrations, some of which can be combined to form bigger images, like this Finding Nemo series.
So now, we can add Dominick Calabo to the ranks of dads who use their unique skills to enhance their parenting, a fair amount of whom enjoy using their kids' school lunches to do it. Like Designer Daddy, who uses his skills as a graphic designer to add fun little notes to his son's lunches, and Lunchbox Dad, who actually art designs the meal itself.
My mom just used to occasionally write something cheesy on my napkin. This is an outrage!
This article was originally published on