Here's Proof That Don Jr. Is Just As Vile As His Dad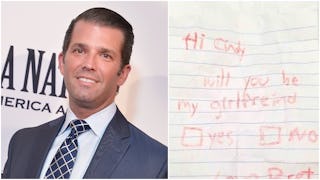 Image via Shannon Finney/Getty Images / Donald Trump Jr. / Instagram
Don Jr. made light of sexual assault on his Instagram, because of course he did
Another day, another example of why Donald Trump Jr. is one of the worst people of all time. While most of us spent our weekends doing things like catching up on chores or watching a little football, Don Jr. instead picked an activity that would only be enjoyable to a horrible human: He posted a mocking, vile meme about sexual assault on his Instagram.
The post was targeting Christine Blasey Ford, the woman who just came forward to say she wrote the previously anonymous letter accusing Supreme Court nominee Brett Kavanaugh of sexually assaulting her when they were in high school together. Don's post was an image of a piece of notebook paper with "Hi Cindy, Will you be my girlfreind? [sic]" written on it, with options to check either "yes" or "no." It's drawn in a childish scrawl. The caption reads, "Judge Kavanaughs sexual assault letter found by Dems."
Also, it's "Feinstein," bro.
So apparently Don Jr. thinks an accusation of sexual assault is somehow on par with a childhood crush? Because that seems to be what he's implying here. Also, does he think that Kavanaugh's offense was somehow in written form? Like, a sexual assault letter? He's an idiot. But that doesn't make this any less vile. The son of the actual President of the United States mocking a victim of sexual assault is simply a level of appalling we never thought possible. But this is the Trumps, after all. Their vileness knows no bounds.
Instagram commenters promptly tore him up, for whatever that's worth.
Taking aim at a woman who says she was sexually assaulted is about as low as a man can get. But then, we haven't exactly seen evidence from Don Jr. that he's above this sort of thing. This is, after all, a man who's established a reputation for being on the right side of history exactly never. It doesn't change the fact that this is completely abhorrent and if we weren't living in the Upside Down, his father, THE PRESIDENT, would tell him to take it down — but we all know that's never happening.