Donald Glover Buys Cookies From Girl Scout Who Went Viral Singing His Song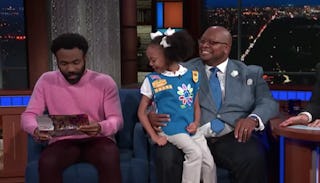 Image via YouTube/The Late Show
Glover bought all of her cookies during an appearance on The Late Show
A dad and daughter recently went viral for their beyond catchy parody of Childish Gambino's (aka Donald Glover) 2016 hit "Redbone" with the lyrics reworked to help sell the kiddo's stock of Girl Scout cookies. Well, her work is now done after an appearance on The Late Show with Stephen Colbert where Glover bought out the rest of her stock.
Yes, it was exactly as cute as it sounds.
If you haven't already seen the viral video of Daisy Scout Charity Joy Harrison and her dad, Seymore Harrison Jr., snapping their fingers and singing about thin mints, then you need to immediately.
"Samoas are coconut cookies with caramel. You wanna get them now cuz they're gonna sell," they sing. It's simply the cutest thing ever (and also, you'll be singing this until next Tuesday, it's that much of an ear worm).
If you thought that was toothache-inducingly precious, check out Charity and her dad on The Late Show meeting Glover, who generously bought all 113 boxes of cookies the ambitious Scout had left to sell. The segment with Charity starts around minute nine of the clip.
We can't even stand how sweet this is. Can we have kind celebrities meeting adorable Girl Scouts on late night shows every week?
After Glover made his big purchase and effectively cleaned out Charity's inventory, the audience got cookies handed out by the Harrisons, Glover, and Colbert.
This child is legitimately the cutest cookie seller of all time and I say that with my very own Girl Scout in the house. I can't even.
Oh, and the Girl Scouts are awfully proud of their champion salesgirl too — and they should be. A peek at her sales page shows she's met her goal of 5,000 boxes.
Cookie season might be drawing to a close, but let's hope Charity and her dad come up with another catchy sales-tune next year.