Donald Trump Jr. On Alleged Kenosha Shooter: 'We All Do Stupid Things At 17'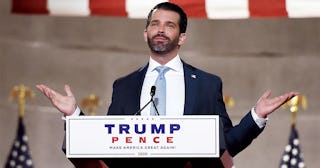 OLIVIER DOULIERY/AFP/Getty
Donald Trump Jr. compares Kenosha killer Kyle Rittenhouse to any other "stupid" teenager
After police shot Jacob Blake seven times in the back in Kenosha, Wisconsin last month, armed teenager Kyle Rittenhouse took an AR-15-style rifle to a protest in Kenosha where he allegedly ended up killing two individuals and seriously injuring a third. The 17-year-old has been charged with murder and yet, Donald Trump Jr. said in a new interview that Rittenhouse was just being "stupid," as in "we all do stupid things at 17."
In an interview with Extra to promote his new book Liberal Privilege (Trump Jr. attempted to explain what "liberal privilege" means by saying it has something to do with Nancy Pelosi getting a haircut), the topic turned to the recent events in Kenosha.
Rachel Lindsay — the former Bachelorette star and current Extra correspondent, who also happens to be a vocal supporter of the BLM movement — interviewed Trump Jr. and tried to press him on current events, despite the brief and often fluffy nature of a show like Extra.
"Why hasn't the Trump Administration or President Trump condemned what happened in Kenosha with Kyle Rittenhouse, coming across state lines and murdering two people and injuring another [at a protest]?" Lindsay point-blank asked the president's son.
"We're waiting for due process," Trump Jr. blustered. "We're not jumping to a conclusion. If I put myself in Kyle Rittenhouse['s shoes], maybe I shouldn't have been there. He's a young kid. I don't want young kids running around the streets with AR-15s. Maybe I wouldn't have put myself in that situation — who knows…? We all do stupid things at 17."
Immediately, Lindsay remarked that "it's a little beyond stupid," to which Trump replied, "Really stupid — fine. But we all have to let due process play out and let due process take its course."
Imagine comparing an accused murderer to just another "stupid" teen. "We all do stupid things at 17?" Uhm, no. Stupid teens steal beer and ditch class and get bad haircuts. Stupid teens don't own AR-15s and kill people. Rittenhouse was charged with five criminal counts, including first-degree intentional homicide and first-degree reckless homicide.
Also, bravo to Lindsay for somehow getting through an interview with this man without losing it. She also held him to the fire and asked him if he understood what Black Lives Matter means, to which he said he did, and that he "agreed" with it, but then added that BLM is "a very good marketing message, it's a great catchphase, but that doesn't back up a lot of the political ideology behind it."
Uhh, okay? Not only do we have to deal with Trump, we also have to endure the insanity that comes out of his mini-me son's mouth too. Let's vote this family out of the White House, 'kay? Great.
This article was originally published on