Trump Reportedly Wanted To Wear A Superman Tee After His Hospital Stay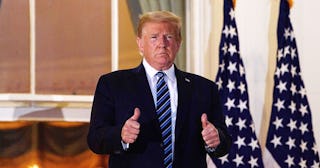 NICHOLAS KAMM/Getty
President Trump reportedly wanted to rip off his button-down and reveal the Superman shirt underneath
Over 214,000 people have died from COVID-19 in the U.S. but to mark his recovery from the deadly virus, the president of the free world allegedly wanted to sport a Superman T-shirt while leaving Walter Reed last week. Yes, really.
Trump was being treated at Walter Reed medical facility after contracting coronavirus likely while holding a maskless Rose Garden event to nominate Amy Coney Barrett as his Supreme Court pick. Instead of humbly leaving the hospital and acknowledging he has access to the best healthcare, doctors, and medicines that others fighting the disease do not, he apparently thought it would be funny to "appear frail at first" but then rip open his shirt, revealing a Superman t-shirt underneath, according to the New York Times.
Trump talked to several people while he was at Walter Reed to discuss his plan and it seems someone (or a team of people) talked him out of the idea. "He ultimately did not go ahead with the stunt," reported the Times.
Trump left Walter Reed on Monday and posted a video where he downplayed the coronavirus. "Don't be afraid of it," Trump said of COVID-19. "You're going to beat it. We have the best medical equipment, we have the best medicines." He also made a show of returning to the White House, walking up the steps (twice), and waving at press while he ripped his mask off his face like a dumb orangutan beating his chest. (And that's an insult to orangutans.)
On Saturday, Trump made his first public appearance since his return during a rally that lasted all of 17 minutes that he hosted from a White House balcony. "First of all, I'm feeling great. I don't know about you," Trump said, bandages visible on his hands. "I want to thank all of you for your prayers. I know you've been praying, and I was in that hospital, I was watching down over so many people." You know, like a fictional superhero who changes in phone booths.
"It's going to disappear," he also told the crowd and cited recent "flare-ups" in other countries. "The therapeutics are going to help a lot" and claimed, without evidence, also saying that a vaccine was coming out "very, very quickly."
Trump's doctor has also publicly announced that Trump "is no longer considered a transmission risk to others." While Dr. Sean P. Conley failed to mention if the president had tested negative for the COVID-19 virus, he did say Trump has been "fever-free for well over 24 hours" and "sequential testing throughout his illness has demonstrated decreasing viral loads."
At the White House on Saturday, Mr. Trump remarked on all the teal blue shirts the attendees wore, saying, "I want to put one of them on instead of a white shirt." Maybe leave the superhero shit for the comic books.
This article was originally published on