I'm Usually Cindy Lou, But This Year I'm Feeling Grinch-y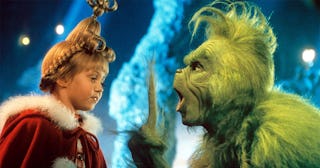 Universal/Getty
There are two kinds of people in the world – people who love Christmas and everyone else. I am the former. Everyone else is wrong.
I am a blast holiday music in early November, put the tree up as soon as the Thanksgiving meal is finished, watch Love Actually on repeat kind of person.
This isn't a religious thing either. It's more about the feeling of Christmas. It's the twinkle and sparkle, the nostalgia and anticipation, the warm coziness that the Christmas season brings. In other words, I am Cindy Lou Who.
Well, I used to be, anyway.
This year, I'm just not feeling it. When I think about singing "O Holy Night," I kinda want to scream. The idea of watching Love Actually makes me feel cringey. Trying to figure out ways to celebrate with family in a socially distant, safe way makes me want to cry and take a nap. It's all so exhausting.
Even the of wrapping presents – something I usually love to do – is stressful, knowing that my kids will be up my ass 24/7 for the foreseeable future. We typically give experiences as gifts and, well, many of those experiences – travel, sporting events, movies – are out of the question this year.
Then there's the constant blah-ness that I've been feeling lately. Pandemic life isn't getting any easier and I'm struggling. My jaw hurts. I have a constant headache. My shoulders and neck are in knots. And I rarely get a full night's sleep due to the relentless anxiety and fretting. It's hard to get excited about anything.
At best, I feel kinda meh about Christmas this year. At worst, it's downright bah-humbug.
I've gone from Cindy Lou to the goddamn Grinch.
And I hate it.
I don't want to be the Grinch. I don't want to feel meh. I don't want to fast-forward through the holiday season. It really is the "best time of the year."
So I'm gonna fight my inner Grinchiness. When it comes to holiday spirit, I'm gonna fake it till I make it. Sure, I might be a little like when Chevy Chase went "hap-hap-happiest Christmas this side of the nuthouse" crazy at the end of Christmas Vacation, but so be it.
I've already marked November 4 as "Operation Holiday Cheer." We're gonna bust out some cookie-scented candles and put up some lights and maybe even turn on some Bing Crosby or Nat King Cole. Sure, we'll be breaking all kinds of holiday protocol, but fuck it. It's 2020. The world is one fire. "Rules" don't matter anymore.
Sure, we might not have thawed out the frozen bird in the freezer yet (who am I kidding, there is no turkey in the freezer) and we're still in the ass-end of pumpkin spice season. I don't even know anymore. But IDGAF. Desperate times call for desperate measures, and I'm determined to bring back that inner Cindy Lou, dammit.
Sure, it might seem strange to toss around tinsel while piles of unraked leaves swirl around my front yard, but so what? This year has been one giant shitshow and, while I'm all about giving thanks, I don't really care much about decorating for a holiday that has suspect origins. I sure as hell don't want crunchy leaves and trees in various shades of brown death. Be gone rotten gourds and uncarved pumpkins. We need some freaking cheer up in this joint.
I need sparkle and glitter. I need bright red ornaments nestled in a sea of silver tinsel. I need twinkly lights and jingling bells. Sure, we might not be able to clasp hands and sing Fa Who Doraze around a giant tree like the Whos (social distancing and all), but I don't want to be a sad grump like the Grinch either.
So instead of waiting until after Thanksgiving to bust out the Christmas decorations and belt out the Christmas carols, I'm hauling red and green bins up from the basement tomorrow. I will sing Bing Crosby while I deck the halls. I'm going to watch Elf 17 times. I'm gonna laugh maniacally and say "SAME" when Clark Griswold loses his shit in Christmas Vacation. I mean, we're all kinda losing our shit this year, aren't we?
So yeah, I'm feeling a little Grinchy this year. Maybe you are too. But I'm gonna fight it. Because, Lord knows, we sure could use a little Cindy Lou right about now.
This article was originally published on