Nickelodeon's 'Double Dare' Is Coming Back, So Your Kids Can Love It Too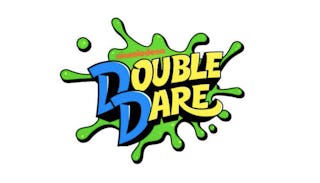 Image via Nickelodeon
"Double Dare" is back to entertain a whole new generation
Nickelodeon's Double Dare is back. I repeat, Double Dare is being reincarnated this summer, so set your DVR and get your inner child ready.
If you don't know Double Dare, for the love of all that's holy, please go back and watch episodes on YouTube or Amazon if, for nothing else, the awesomeness that is late 80's bangs and mullets.
It's a ridiculously fun game show made up of physical challenges, trivia, and an obstacle course.
But wait, there's more.
During the trivia portion of the show, if contestants don't know the answer, they can "dare" the other team to answer. But, the other team can then "double dare" that team back. If they answer correctly, they win mucho money or they can take a physical challenge instead. Did we mention it's ridiculously fun?
Nickelodeon is bringing back their longest running show with 40 new episodes, beginning sometime this summer. The fan-favorite is set to give "a new generation of kids the chance to compete in the messiest and most physically challenging competition of their lives," Nickelodeon said.
The original series aired from 1986 through 1993, with a brief comeback in 2000. According to the cable network, they plan on bringing back the most popular of the original's obstacle course, including the human hamster wheel, the gigantic mouth, the wringer, and the Double Dare nose (which contestants obviously pick).
Think of the show as a perfect melting pot of Jeopardy!, American Ninja Warrior, and being an audience member at a Gallagher show, OMG I'm so old. The network also released a Super Sloppy Double Dare and Family Double Dare, which brought families together to compete against other families in a battle of wits and which mom could wear the highest waisted jeans.
"With 'Double Dare' remaining an iconic touchstone for its original millennial audiences, the new version will feature the gameplay and challenges they remember, as well as appearances from blasts from the past and stars from today," the network announced.
A specific premiere date hasn't been revealed but I'm sure parents and kids will be waiting patiently, honing their "find a flag in a baby pool full of chocolate pudding" skills.
Whenever it arrives, Nickelodeon, our 90's hearts will thank you.