Fauci Says He's Not Spending Thanksgiving With His Kids This Year Due To COVID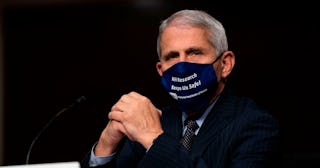 ALEX EDELMAN/POOL/AFP via Getty Images
In a new interview, Dr. Anthony Fauci reveals why he is spending the holidays without his kids this year due to the COVID-19 pandemic
As predicted by top experts, as the temperature drops around most of the country, the number of COVID-19 infections will surge. This week alone, ten states experienced a record high of infections, while a number of states continued to report an increase in cases. With the holiday season just a month away, many people are trying to figure out if it is safe to break bread with friends and family. According to Dr. Anthony Fauci, the nation's leading infectious disease expert and key member of the White House Coronavirus Task Force, the answer is likely no. During a webinar hosted by American University's Kennedy Political Union, Fauci shared his decision to spend Thanksgiving as a "very, very closed family type of thing," in order to prevent the spread of the deadly virus.
Fauci, who is a father of three, explained that his adult daughters live in "disparate parts of the country" in areas with high levels of COVID-19 infections, which is why his kids will not join him at Thanksgiving.
"We would love for them to come home for Thanksgiving," he explained. "They have said themselves, 'Dad, you know you're a young, vigorous guy, but you're 79 years old.'"
His daughters suggested that in order to keep him safe, as he is considered high risk per CDC guidelines, that he spend the holidays without them. "We want you and mommy to have a nice, quiet dinner," Fauci says they told him. "Maybe have a neighbor next door that always comes over the house that you know that's negative, and we'll send our love via Zoom."
Fauci does admit that "you've got to take it as an individual case," as there are various factors to take into consideration.
In fact, the CDC has an entire page devoted to "Holiday Celebrations" outlining everything you should think about before planning your own holiday celebrations. "Celebrating virtually or with members of your own household pose low risk for spread," they write. "In-person gatherings pose varying levels of risk."
The biggest considerations should be the community level of spread, the location your celebration is taking place in (outdoors vs indoors, for example), the duration of the event, how many people will be attending, where they are coming from, and their behavior — before and during the event.
They do discourage anyone who is "at increased risk of severe illness from COVID-19, or live or work with someone at increased risk of severe illness" to "avoid in-person gatherings with people who do not live in your household," and also "avoid larger gatherings and consider attending activities that pose lower risk…if you decide to attend an in-person gathering with people who do not live in your household."
During an interview with CNN's Chris Cuomo on Tuesday, Fauci pointed out that if you live in an area where infections are low, a family gathering doesn't have to be off the table. "Some people in this country are going to be able to have a relatively normal type of a Thanksgiving, but in other areas, you better hold off," he said.
If traveling, you should take extra precautions, he warns. "Maybe you want to come in and quarantine yourself for a number of days or get tested a couple of times before you go in," Fauci said. However, this isn't going to be possible for most people due to the fact that Thanksgiving isn't a long holiday.
Whatever you choose to do, Dr. Fauci isn't going to judge you. "I'm not going to criticize people who do it differently, but look at the individual situation in your own family and make a decision that way," Fauci said.