Six Dr. Seuss Books Got Pulled Because They're Racist AF, And It's About Damn Time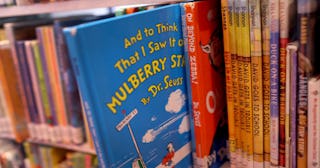 Scott Olson/Getty News Images
On Read Across America Day 2021, Dr. Seuss Enterprises, the company that owns the rights to all of the books written by Theodor Geisel, announced they were taking six books out of print. Distribution for the books, including "And to Think That I Saw It on Mulberry Street" and "If I Ran the Zoo," is ending because of it racist and harmful imagery. Of course, plenty of people are up in arms about the removal of the books, but it's a good move on the part of the company to distance itself from Geisel's earlier work. The books include harmful images of Asian and African characters. Given where we're at when it comes to race relations with those particular groups, especially in the last year, the move is incredibly smart.
"Dr. Seuss Enterprises listened and took feedback from our audiences including teachers, academics and specialists in the field as part of our review process. We then worked with a panel of experts, including educators, to review our catalog of titles," the company said.
According to their statement, their decision didn't come lightly. They spent months deliberating on what the best course of action was. The books were actually taken out of print last year, but the company waited until Read Across America Day to make the decision public. It makes sense to wait until the day when everyone is focusing on Seuss and his legacy.
"Ceasing sales of these books is only part of our commitment and our broader plan to ensure Dr. Seuss Enterprises' catalog represents and supports all communities and families," they added.
As of right now, they haven't outlined what that plan is, but one can hope that it's not something as simple as stopping publication on more books. While that is certainly a good start, it doesn't really address the issue. Pretending like something didn't exist doesn't erase it from memory. All it does is make it easier for the company to say, "See? We did something." Not only is it simplistic and lazy, it absolves the company from having to do any real work.
If Dr. Seuss Enterprises wants to make some real changes, they will begin with financial reparations to both of the marginalized groups hurt the most by those books. Committing to real anti-racist work outside of the organization is one of the best ways to show they're serious. Setting up some sort of fund or trust would be a good start. There are a lot of organizations that exist to support diverse books they could work with. They could also donate money from sales to schools in underserved areas to set up more diverse libraries. According to The Guardian, there are more than 600 million copies of Seuss's books in circulation. This means Dr. Seuss Enterprises earned about $33 million before taxes for 2020. They have more than enough money to commit to making some real change — the question is, will they?
Right now we're in a time of companies doing a lot of surface work to show that they're progressive. But taking a few books out of print isn't enough to prove that they're actually doing anything to make any substantial change. That doesn't mean they need to go and revamp the existing books, either, because patching over history doesn't mean it never happened — it just means that no one wants to do the real work of undoing harm. And because Dr. Seuss is dead, it's impossible for him to demonstrate that he's evolved past his racist past. So it's up to his beneficiaries to do the work. Reparations are the first step, then working with organizations to uplift them is the next.
A 2019 study showed some very important information about representation in Seuss's books. Katie Ishizuka and Ramón Stephens went through 50 Seuss books, finding over 2,000 human characters. In their research, the pair found that only two percent of the human characters aren't white, which is 45 actual characters. Of those 45, there are 43 that represent negative stereotypes of Asian. According to the researchers, the other two characters "are identified in the text as 'African' and both align with the theme of anti-Blackness." Additionally, all of the non-white Dr. Seuss characters are male and "presented in subservient, exotified, or dehumanized roles," in relation to the white characters.
"Minimizing, erasing or not acknowledging Seuss' racial transgressions across his entire publishing career deny the very real historical impact they had on people of color and the way that they continue to influence culture, education, and children's views of people of color," the study's authors said.
Research shows that children show racial biases even at the age of three. Those biases become fixed by the age of seven. And since Dr. Seuss's books are targeted to that age range, it's important to make sure the most offensive books are less available. Children of color, especially Black children, are inundated with imagery that makes them seem "less than." It's way past time to start doing harm reduction. The more we begin to move away from racist imagery, the more kids will see themselves as worthy.
It's easy to chalk it up to Theodor Geisel just being a product of his era. While that may be partially true, there were a lot of people who were not being racist at that same time, so it's not really the best argument. Geisel's behavior could almost be understood if he didn't base so much of his career on racist imagery. The political cartoons would be bad enough, but he brought it into his children's work. It's one (unacceptable) thing to create that sort of content for knowing adults. Adding it to children's books feels far more intentional.
When you're writing for children, you are creating some of their earliest memories. That's why Dr. Seuss's legacy has gone on for so long; there's an element of nostalgia that comes along with the books we read as children when we're adults. Certain stories, for better or worse, stick with us for a long time — so seeing a negative image in your favorite book will definitely have a lasting impact. It's true that there's nothing we can do now for the books that are already out there. But recognizing the problem, creating a dialogue around this, and committing to doing better is a start.
There's a chance that Dr. Seuss will never be fully cancelled. His books will live as long as there are people who are nostalgic for his work and have money. But at least now we know that his most harmful titles will begin to cease existence. As more people become more aware of his racist history, it's likely that his work won't be so synonymous with childhood books. It's time to create a new legacy of great children's stories by authors who recognize that a more inclusive bookshelf benefits us all.