Movie Theater Is Matching Donations To Help Migrants Seeking Asylum
by Julie Scagell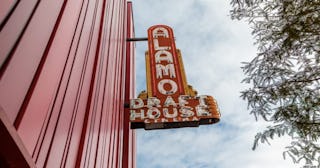 Facebook/Alamo Drafthouse
They will match donations during the month of July
As continued reports of inhumane conditions at Border Patrol facilities make headlines around the world, people are desperate to donate their time, money, and resources in any way possible to help. One cinema found a way to get money into the right hands by asking moviegoers to donate if they can when they purchase a ticket.
Alamo Drafthouse Cinemas, a nationwide chain of movie theaters, announced to customers that their charitable recipient for the entire month of July will be the Refugee and Immigrant Center for Education and Legal Services (RAICES), the largest immigration legal services provider in Texas.
According to their website, moviegoers "can (optionally) give $1, $3, or $5 every time you purchase tickets on drafthouse.com or the Alamo Drafthouse mobile app. Every dollar raised will be donated along with an Alamo Drafthouse match (up to a certain level)."
There are no shortage of horrendously heartbreaking stories about the tragic conditions at holding facilities — overcrowding, lack of basic self-care items or hot meals, and children looking after children are at a tipping point with seemlingly no end in sight. Concerned people have even driven down to some of the facilties to donate diapers, formula, and care items and have been turned away.
"Our first beneficiary is RAICES, the largest immigration legal services provider in Texas," the Alamo Drafthouse said in their post. They are a "nonprofit agency that provides free and low-cost legal services to underserved immigrant children, families, and refugees, and their staff of 130 attorneys, legal assistants, and support staff are on the frontlines of an issue that's on the top of many minds this summer."
This isn't the first time Drafthouse has made national news for their out-of-the-box initiatives. Last summer they announced two female-only showings of Wonder Woman, saying in part, "The most iconic superheroine in comic book history finally has her own movie, and what better way to celebrate than with an all-female screening. Apologies, gentlemen, but we're embracing our girl power and saying 'No Guys Allowed'…and when we say 'People Who Identify As Women Only,' we mean it. Everyone working at this screening — venue staff, projectionist, and culinary team — will be female."
RAICES staff closed 51,000 cases at no cost to the client in 2017 alone. "Our advocacy and commitment to change are driven by the clients and families we serve every day as our attorneys and legal assistants provide legal advocacy and representation in an immigration system that breaks apart families and leaves millions without pathways to legal status," they said on their site.
Last week, the House passed a $4.5 billion emergency spending bill to provide aid to the southern border, requiring the Customs and Border Protection to establish health and safety standards for migrants in their care. It's a small step in the right direction but the over 11 million children and their families being held in the US today will always need more than we are giving them.