All Tea, No Shade — These 130+ Drag Queen Names Will Have You Gagging
by Team Scary Mommy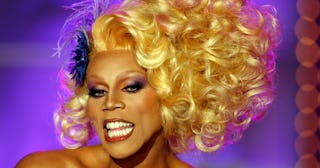 Mark Boster /Getty
Being a drag queen is about a lot more than someone who presents as masculine dressing in traditionally feminine clothes. In addition to the fashion, there are elements of entertainment, music, design, dance, literature, and comedy — not to mention a long history (sorry, herstory). If you've watched any episodes of RuPaul's Drag Race (especially the comeback and roasts), you may think that RuPaul Charles is one of the first drag queens — but, honey, they've been around a lot longer than that.
Although it's unclear where, exactly, the term "drag queen" came from, one of the first times "drag" was used to describe a man dressed in woman's clothing was in 1870, in reference to a masquerade ball — sometimes referred to as a "grand rag." Of course, times have changed a lot, and drag can be whatever you want it to be: After all, gender is a social construct. In the wise words of RuPaul, "We're all born naked, and the rest is drag."
Anyway, the first drag balls in the United States were held in the 1880s, although attending was a crime, and they were often raided by police. Around the same time, and into the 20th century, female impersonator acts were popular on the vaudeville circuit. But soon drag was associated with sex work and queerness and fell out of favor among heterosexual male performers.
For a while, the art of drag was primarily seen in underground venues but has been coming out of the shadows and into the mainstream slowly but surely since the 1980s. Now, there's a chance your local library hosts a drag queen story hour. (If it does, and you haven't gone yet — go!) And if you find yourself so inspired by drag queens that you'd like to name your baby after one or be inspired for your own drag name, here are some classic drag queen names for every taste.
Names of Iconic Drag Queens
Divine
Divine was a drag queen well known for his pointy eyebrow looks and roles in several John Waters movies. He was crowned the "Drag Queen of the Century" by People.
RuPaul
RuPaul was first given fashion cues from his mother and sisters. RuPaul started performing in Manhattan clubs around New York City and eventually released an album called Supermodel of the World.
Lady Bunny
This beautiful drag queen is also known as Bunny Hickory Dickory Dock. She is the founder of the annual Wigstock event and has made several disco songs like "Shame, Shame, Shame!" and "The Pussycat Song."
Coccinelle
Jacqueline Charlotte Dufresnoy is also known as Conccinelle. She was a French entertainer in the 1950s. She, along with other trans women entertainers, performed at the prestigious nightclub Le Carrousel de Paris.
Other Famous Drag Queen Names
Dame Edna Everage
Pepper LeBeija
Conchita Wurst
Tandi Iman Dupree
Stella Clinton
Fanny Park
Crystal LaBeija
Pabllo Vittar
Bothwell Browne
Panti Bliss
Names of Contestants From RuPaul's Drag Race
A'keria Davenport
Acid Betty
Adore Delano
Aiden Zhane
Aja
Alaska Thunderfuck
Alexis Mateo
Alexis Michelle
Alyssa Edwards
Asia O'Hara
BenDeLaCreme
Blair St. Clair
Brita Filter
Brooke Lynn Hytes
Carmen Carrera
Charlie Hides
Chi Chi DeVayne
Coco Montrese
Courtney Act
Crystal Methyd
Cynthia Lee Fontaine
Dahlia Sin
Delta Work
Denali
Derrick Barry
Detox
Envy Peru
Eureka O'Hara
Farrah Moan
Gia Gunn
Gigi Goode
Ginger Minj
Gottmik
Heidi N Closet
Honey Davenport
Honey Mahogany
Tamisha Iman
India Ferrah
Ivy Winters
Jackie Cox
Jade Jolie
Jan Sport
Janey Jacké
Jasmine Masters
Jaymes Mansfield
Jessica Wild
Jiggly Caliente
Joslyn Fox
Jujubee
Kameron Michaels
Kandy Muse
Katya Zamolodchikova
Kelly Mantle
Kennedy Davenport
Kim Chi
Kimora Blac
Laganja Estranja
Latrice Royale
Manila Luzon
Mariah Paris Balenciaga
Mayhem Miller
Milk
Mimi Imfurst
Miss Fame
Miz Cracker
Monét X Change
Monica Beverly Hillz
Monique Heart
Morgan McMichaels
Mrs. Kasha Davis
Naomi Smalls
Nicky Doll
Nina Bo'nina Brown
Nina Flowers
Nina West
Ongina
Pandora Boxx
Pearl
Peppermint
Phi Phi O'Hara
Ra'Jah O'Hara
Raven
Robbie Turner
Rock M. Sakura
Rosé
Roxxxy Andrews
Sahara Davenport
Scarlet Envy
Shangela
Shannel
Shea Couleé
Sherry Pie
Shuga Cain
Silky Nutmeg Ganache
Soju
Kylie Sonique Love
Symone
Tammie Brown
Tatianna
Thorgy Thor
Tina Burner
Trinity K. Bonet
Trinity Taylor
Trixie Mattel
Valentina
Vanessa Vanjie Mateo
Venus D-Lite
Victoria "Porkchop" Parker
The Vixen
Widow Von'Du
Willam Belli
Yara Sofia
Yuhua Hamasaki
How to Come Up With Your Own Drag Queen Name
Although technically any name can be a drag queen name if you'd like to come up with your own and aren't sure where to start, let the wordplay and puns flow! Find a word or phrase that can be said using a first and last name. If you really want to get creative, you can pick a word or phrase that describes your drag queen persona. A few examples are:
Phyllis Stein
Helen Wheels
Hedda Hair
Eileen Dover
Pat McCrotch
Penny Foryathots
Ima Hogg
Jo King
Iona Mink
Holly Wood
This article was originally published on