Neighbors Accuse Woman's Holiday Display Of Being 'Demonic' -- So She 'Fixes' It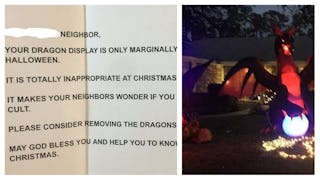 Image via Facebook/Diana Rowland
Her dragon collection quickly went from three to five
The holidays just wouldn't feel like the holidays if you didn't decorate every square inch of your home — both inside and out. And when it comes to decorating, more really is better at Christmastime. So, when one homeowner decided nothing says Christmas like three blowup, Game of Thrones-sized dragons, you can imagine they got a lot of attention. Unfortunately, not all of it was positive.
Former cop turned author Diana Rowland decided to up her holiday game by putting out not one, not two, but three life-sized dragons in her front yard to celebrate the holidays. And even though we can't think of anything better to drive by every single morning during December, it seems not all of her neighbors agree. "Our dragon holiday display got fan mail! (And apparently the 'true meaning of Christmas' involves judgmental bullshit?)" Rowland wrote on Twitter after receiving an anonymous letter scolding her decorative choices.
Not only does this neighbor feel these perfect specimens are only "marginally acceptable" at Halloween, but apparently makes her neighbors wonder if Rowland is involved in a "demonic cult." They're dragons people, she's not outside with a Ouija board conjuring up the spirit of Charles Manson. Pump the brakes. Who needs more reindeer and snowmen when you can have all of the dragons?
So, what's a woman to do when she receives such a passive-aggressive letter? Passive-agressively put two more dragons in her yard — that's what.
And so, she did. And all was merry and bright in the world again.
Not only did she add more dragons to the dragon clan, she also put halos on their heads in a nod to the Christmas spirit. If you're short on friends Ms. Rowland, I have made myself available to you indefinitely.
Obviously, the good folks of Twitter were happy to jump in and support Rowland's decorating decisions:
https://twitter.com/jetpack/status/1074259914707607552https://twitter.com/jetpack/status/1074162507550404611
And Twitter didn't stop there. Apparently, Rowland was getting a ton of requests to send her money in order to buy even more dragons. Because dragons are like cowbell, you can never have enough.
"I've been getting a lot of messages about fundraisers/collections to buy me MORE DRAGONS, but I would much rather any Dragon Army money be donated to a worthy charity of your choice. Let's make this holiday season about joy and charity for all," Rowland wrote.
Tis the season for giving — and dragons.
This article was originally published on