Drake Bell Pleads Guilty To Attempted Child Endangerment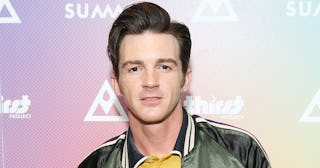 Michael Tran/Getty
Drake Bell pleads guilty to an incident from 2017 involving a 15-year-old girl
Drake Bell, best known as the Drake in Drake and Josh, the wildly popular mid-aughts Nickelodeon show, has just pled guilty to disturbing crimes involving a 15-year-old girl. The crimes occurred back in 2017, and Bell was recently arrested on the charges earlier this month in Cleveland, Ohio.
Per local NBC affiliate KXAN, Bell, 34, is charged with attempted endangering children, a 4th-degree felony; and disseminating matter harmful to juveniles, a 1st-degree misdemeanor. He was arrested earlier this month and pled not guilty, however on June 23, 2021, he appeared back in court via Zoom and ended up pleading guilty to both crimes.
According to ABC News 5 Cleveland, "in October 2018, a 15-year-old victim filed a report with her local police department in Canada regarding an incident that occurred between her and Bell in 2017 at a Cleveland nightclub…"
The young girl claims that Bell had established a social media relationship with her for several years before the 2017 incident and among the messages he sent her over the years, some were sexually inappropriate in nature. After several years of conversations, the 15-year-old girl attended his concert in December 2017 in Cleveland. It's unclear what happened next, but the prosecutor's office said that Bell "violated his duty of care, and, in doing so, created a risk of harm to the victim."
By way of explanation, Bell's attorney Ian Friedman told People that "all questions about this case will be answered at sentencing, including why Mr. Bell chose to enter his plea." Sentencing is set for July 12, 2021.
The judge at Wednesday's pre-trial hearing told Bell that attempted endangering children carries a sentence of anywhere from six to 18 months in prison and/or a fine of up to $5,000, though prison time is not mandatory. The second charge carries up to six months in jail and/or a fine of up to $1,000.
His arrest comes almost a year after Bell's ex-girlfriend, Melissa Lingafelt, accused him of physical and verbal abuse when they dated in 2006. She was 16 and he was 20 at the time. She did not press charges and he denied the allegations, though Lingafelt added that she "knows for a fact he has hundreds of victims."
Late last year, Bell reportedly changed his name to Drake Campana, moved to Mexico, and released a Spanish-language album.
Some online found the sudden career change bizarre, and many wondered if it had anything to do with the abuse allegations levied against him.
The whole thing is sad and disturbing and an all too cautionary tale of just how easy it is for predators to reach out to young kids through social media.