Drake Kisses And Fondles Underage Girl In Disgusting Resurfaced Video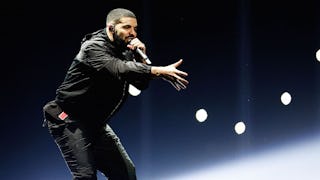 Lagerhaus/WireImage
Time to add Drake to the long list of male entertainers who've engaged in sexual misconduct
In the wake of the #MeToo Movement, as women around the world are speaking up about the sexual misconduct of powerful men, looks like time's up for rapper Drake. A video from a past tour that recently resurfaced shows the performer kissing and fondling a 17-year-old girl on stage, even after she discloses her very young age.
It is, to say the least, totally gross and uncomfortable to watch.
The video opens with Drake touching and kissing the girl's back and then reaching around to touch her breasts.
"Y'all going to have me getting carried away again – I get in trouble for shit like this," he says to the audience. Then he turns to the girl and asks, "How old are you?"
"17," she answers, as the crowd goes crazy.
"I can't go to jail yet man! Seventeen? Why do you look like that? You thick! Look at all this! Well, I had fun. I don't know whether I should feel guilty or not, but I had fun. I like the way your breasts feel against my chest. I just want to thank you."
He then takes her hands in his, kisses them, then kisses her cheeks, forehead and lips before she's guided off stage.
According to The Daily Beast, the video is from an old tour, but the implications that it has for Drake, and the music business, are serious today. The reaction on social media so far has been a mix of disgust, disappointment, and anger – both toward the entertainer and toward the crowd, which seemed to egg him on and cheer.
Others were quick to point out that Drake has a sketchy history with other underage and barely legal girls. Last fall, the star was rumored to be dating the just-turned-18 model Bella Harris, who some say he'd been "grooming" since she was 16.
He was also called out last fall for inappropriate contact with 14-year-old Stranger Things star Millie Bobby Brown, who said the pair texted about "boys" and that he texted her, "I miss you so much."
Many Twitter responses were simply, "We got him," also implying that his time might have been coming.
The video surfaced just a day after a Lifetime documentary series, Surviving R. Kelly aired its shocking finale, in which the R&B singer is accused of dozens of illegal acts with underaged women, from statutory rape to kidnapping.
Drake has yet to respond to the video.
This article was originally published on