I'm Dreaming Of A Clutter-Free Christmas
by Danielle Venticinque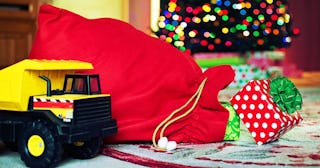 Pixabay
Each holiday season, along with trimming our tree and baking cookies, our family practices another tradition: clearing out all the clutter. In preparation of the annual barrage of toys that will inevitably descend on our house from our generous and well meaning family (despite our pleas for gifting experiences rather than things), we need to make room.
This purge historically took place under the cover of night while the children were nestled all snug in their beds. My husband and I would manically box up the unused and unloved toys and ready them for donation. Our children would wake none the wiser, not missing any of the discarded play things. However, last year was the inaugural year of my kids participating in the pre-Christmas clutter clearing, and we weren't sure how they would take it.
To my surprise, my own Christmas miracle occurred when they embraced the idea of parting with their current toys knowing they would be replaced by new ones from Santa (and my bogus back pocket threat, "if Santa sees you have too many toys he may not leave you any new ones," went unused).
Our clutter clearing ritual is a three step process that happens over the weekend following Thanksgiving.
First, we set the example. My husband and I phase out our own excess, explaining our actions to our kids as we clear things out left and right.
Second, the setup. We prep our kids with the instructions that they'll be sorting through their toys and "giving them away to a new home where someone will love them again and play with them every day, just like you used to." We make sure that we emphasize how fortunate they are to have so many toys, and remind them that Santa and our relatives will be bringing them new toys that we have to make room for. We also point out that they are one year older now and there are many toys they've outgrown.
Lastly, the purge. We begin by having them choose between two similar items. Once the favorite is picked, we put it up against another and so on until we are left with a few loved items from each toy category and fewer items overall. For smaller items, like their Hot Wheels, we line them up and have them each pick out a predetermined number of favorites. As they sort, we recycle or throw out toys that have missing pieces, or are broken, or are simply plastic junk. The entire process takes my kids forever and a day as they meticulously sort through the drawers and cubbies of trucks, trains, tractors and planes, but in the end they are left with fewer, truly treasured toys.
The timing of this clutter clearing is crucial. Since they're looking forward to what they'll find under our tree, their anticipation ousts any push back or separation anxiety that we might encounter any other time of the year. Once the boxes are filled, we donate them with a "ceremony," thanking the toys for letting us play with them and wishing them well on their journeys to a new, loving child. Having my kids participate in the clearing has also helped to erase the guilt I felt when previously discarding their toys without their knowledge. An added benefit is that we have a fresh start to the new year with the clutter clearing behind us.
My overall hope is that this process is teaching our kids the counterculture that more "things" don't equal more happiness and that joy can often be found in giving to others. After all, 'tis the season.
This article was originally published on