Drew Barrymore Admits Divorce Made Her Feel Like 'The Biggest Failure'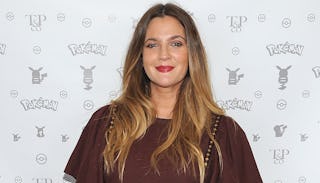 Image via Angela Weiss/Getty
Drew Barrymore just revealed some hard truths about moving on from her divorce
Not every relationship lasts forever, and sometimes divorce is what's best, but knowing that still doesn't keep us from experiencing some pretty complex emotions post-split. Mom and actress Drew Barrymore knows that as well as anyone, and she recently opened up about how much she struggled with her divorce from ex-husband Will Kopelman.
On the premier of Chelsea Handler's new Netflix show, Barrymore admitted divorce made her feel like a "failure" and said the situation brought her a lot of shame at first. "When you break up with somebody, you're like, 'Yeah, that didn't work,'" she explained. "But when you get divorced, you're like, 'I'm the biggest failure. This is the biggest failure.'"
Of course, we all know divorce doesn't equal failure, but Barrymore says it took her a little while to feel okay again. "It's so shameful and hard to actually go through that, even privately," she admitted. But eventually, she says she was able to come to terms with the split and "find grace in the idea that life goes on," thanks to the support of her family and friends.
Kopelman and Barrymore, who were married for three years and have two daughters, announced their split in early April with a mutual statement that focused on respect for one another and their commitment to their kids. "Our family is separating legally, although we do not feel this takes away from us being a family," the statement read. "Our children are our universe, and we look forward to living the rest of our lives with them as the first priority."
Celebrity couples go through divorces quite often, but it's rare to hear them cop to the mixed emotions, hurt, and sense of loss that can accompany the end of a longterm relationship. Usually, they keep it all under wraps and just seem to bounce back a few months later with a hot new lover and zero nods to the past.
[related_post]
It's understandable that people might not want to talk about their feelings, but it's also natural to mourn the loss of such a significant relationship and to feel as if you somehow "gave up" on a significant commitment — even though that's not the case. Sharing those feelings is really helpful, not only in changing the stigma surrounding divorce, but in helping other couples get through it as well.
We live in a world that tells us to make our marriages work at all costs, to stay together for the kids, to just push through and try harder. Sometimes it just doesn't work out. Sometimes it doesn't need to work out. Relationships end, but family and love remain, and if you can find a way to move forward with grace and create a life that works for you, there's nothing shameful in that at all.