Drew Barrymore Keeps It Real With Her Toddler's Disney Tantrum Photos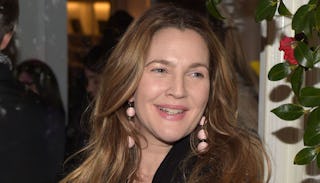 Image via Jason Kempin/Getty Images
She turns daughter's Disney World tantrum into hilarious photo shoot
No parent of young kids is immune to the occasional tantrum. Just ask Drew Barrymore, who was on the receiving end of a meltdown in Disney World recently. But the actress turned her daughter's antics into fun photo fodder, because it's always better to laugh than cry.
On a recent visit to "Late Night with Seth Myers," Barrymore, the newly-minted Netflix zombie, told the host all about a recent vacation with her two kids, Olive, four, and Frankie, two. "(Disney) was the best experience ever. I just had tears of joy seeing their joy."
Except for the inevitable meltdown. "If you've ever taken your kids to Disneyland or Disney World," she says, stating the obvious, "It all ends at some point in mayhem."
The mayhem began when Drew wouldn't let Olive chase a duck through the park. It must have been Donald Duck, because Olive was not happy about her mom's decision. And, in the delightful manner of shameless toddlers, she made her displeasure known to everyone within earshot.
Not only did Drew manage to keep her cool, she even found a way to make her daughter's tantrum fun. By mocking it! She captured a few photos of her daughter's multiple fits, and made sure the photos included her own bewildered and dramatic reactions to the meltdowns.
Tantrums can attack anywhere. At home, at Target, even at Disney World. In fact, it's often on those special days, when you're cramming in as much as you can, that your hangry, overtired toddler hits a wall, and then proceeds to scream at that wall.
Disney World has surely seen no shortage of toddler tantrums, and judging by her calm, cool, and comical reaction to her daughter's hysterics, neither has Drew Barrymore.
Maintaining a sense of humor as a parent is basically the key to maintaining your sanity. I guess it shouldn't come as much of a surprise that the star of The Wedding Singer and Never Been Kissed has one. Here's hoping that by the time her daughter comes across these photos in a few years, she's developed one too!
This article was originally published on