'I'm Just Fat': Drew Barrymore's Perfect Response To A Nosy Fan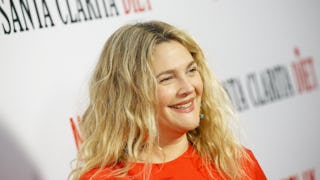 Image via Michael Tran/Getty
Drew Barrymore deflecting a pregnancy question is all the self care we need today
Drew Barrymore recently faced a question feared by non-pregnant women everywhere: Are you expecting? But luckily, the 43-year-old Hollywood star and mom had the perfect answer: No, I'm just fat right now.
Pause for applause.
Barrymore told the story on The Late Late Show With James Corden last week as she was promoting Season 2 of her Netflix comedy drama Santa Clarita Diet. She was discussing her struggle between being a foodie who happily carries a few extra pounds and being an actress who has to lose weight when filming a project – and how hard it can be to be comfortable transitioning between those two spaces. The star said that she was recently walking out of a restaurant with some mom friends and their herd of children when a fan stopped her to comment on "all of her kids."
"Not all of them are mine. I just have two," Barrymore said.
"Well, and you're obviously expecting," the woman said, before Barrymore explained bluntly and shamelessly that she was just carrying a food baby.
The stranger in the restaurant isn't the only one who's been critical of the former child star's body. Barrymore also told Corden that her five-year-old daughter Olive recently got in an unknowing jab at her mom's weight. She was showing her daughter a funny picture of a rotund, reclining dog that she was posting on Instagram, but before she could explain that she felt a lot like the dog at the moment, her daughter responded, "Mom, it's you!"
Ugh.
Barrymore isn't new to being open about her appearance, aging, and what it's like to be an actress in a world where women aren't valued in the same way as their male co-stars, from how they're treated to what they're paid. She's also been refreshingly funny, honest, and open about how hard her divorce has been, her feelings of working mom guilt, and the very real struggle of keeping her eyebrows camera ready.
In case you're wondering, yes, Barrymore has long been this quick, sharp, and quippy about her body–and the love she has for it even if it isn't picture perfect. In 2015 she told InStyle, "I am who I am and I just don't have a bikini body. I don't even have a one-piece body anymore!"
But Barrymore might have reached peak relatability with her latest zinger: so many women have been asked that rude question, even if only a few of us were able to summon as amazing an answer. Barrymore's story is also a great way to remind the world: never, ever assume a woman is pregnant, even if she's in the maternity ward and the baby is crowning. You might get a 100 percent honest answer like Barrymore's that brings the realness very quickly.
This article was originally published on