The New 'Toy Story' Trailer Introduces Keanu Reeves' Character And OMG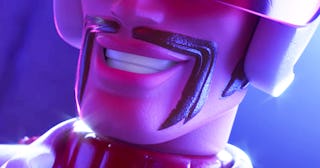 Walt Disney Studios Motion Pictures
Among the new 'Toy Story 4′ cast members is Keanu Reeves, playing delightfully confident motorcycle stuntman Duke Caboom
Nine years after Toy Story 3 hit theaters, Pixar is releasing Toy Story 4 on June 21, to the delight of kids (and, let's admit it, adults) everywhere. A new trailer for the film was released today, showcasing the movie's cast of old favorites, along with a few new and exciting editions. The biggest surprise? We get a good look at Keanu Reeves' character, a stuntman named Duke Caboom, and we are ready to reserve our tickets.
The plot of the fourth installment of the internationally popular franchise promises to go even deeper into the world and themes developed in the first three movies. In it, Woody, Buzz Lightyear, and all the rest of the gang now live with Bonnie after Andy went away to college. Bonnie creates a toy, Forky, who is basically a spork glued to a popsicle stick, and who is more than a little confused about his existence. When Forky gets lost, all the toys have to work together to get him back and make sure Bonnie has her favorite plaything.
We haven't seen Reeves before this trailer, and it's quite an introduction. The crew seems to be on a road trip vacation with Bonnie's family, and Duke Caboom is their only hope for rescuing Forky.
Labeling himself as "Canada's greatest stuntman," Duke Caboom boasts an all-white jumpsuit, a maple-leaf-themed motorcycle, a Canadian flag cape, and of course a handlebar mustache. He can also do a number of poses, although he can't do them without letting out a confident, "Oh, yeah!"
Other character surprises in this installment include the return of Bo Peep (Annie Potts) as well as the addition of what look like a couple of carnival toys, played by funny duo Keegan-Michael Key and Jordan Peele. Arrested Development's Tony Hale will play Forky, while Christina Hendricks, of Mad Men fame, looks to be playing the villain in this cut, a vintage baby doll that's creepy AF.
Twenty years after The Matrix made him a superstar (and THRTY years since Bill and Ted made him a star), Keanu Reeves is coming off a huge summer and a career revitalization that's made him an A-lister in Hollywood all over again. Also, he's still looking very good.
What's up after Duke Caboom? Reeves is working on John Wick 4 and a Bill and Ted reboot called Bill and Ted Face the Music that we definitely also want to see.
But until then, we will be getting emotionally prepared for the upcoming Toy Story to drop, since honestly all three movies before have made us cry like tiny babies. This one seems like it will be no different, as it explores big questions like, what exactly makes a toy a toy? Do toys have to bend to the needs of their child owners? What if a toy doesn't want to be a toy? And: what does it mean to be alive?
We'll learn more in a month, when the movie premieres in theaters, as well as in 3D and IMAX.
This article was originally published on