Here's The Teaser Trailer For Disney's Magical 'Dumbo' Remake
by Thea Glassman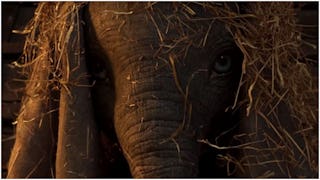 Image via Disney/YouTube
The first trailer for Dumbo has been released and yes, you will definitely cry
Need to cry some happy tears today? Well then, I'd like to turn your attention immediately to an elephant with a very big heart and some pretty floppy ears. The teaser trailer for Disney's live-action Dumbo remake is here, and it will probably (definitely) make you believe in magic all over again.
There are several reasons to get extremely excited about this remake, due out March 2019. First of all, Tim Burton directed it so you just know it'll be a gothic, whimsical, massively eccentric masterpiece. Second of all, it has an all-star cast which includes Danny DeVito, Michael Keaton, and Colin Farrell. Third of all…just watch the trailer. It's one minute and twenty seconds of pure wonder.
That moment when he finally flies…cannot even handle it.
As you can tell from the trailer, the film's plot definitely strays a little from the original. In Tim Burton's world, Colin Farrell stars as Holt Farrier, a solider who returns from war and takes a job working at the circus. It's there that he meets Dumbo, an elephant who has been ostracized because of his big ears. Holt's children discover that Dumbo can actually fly which prompts some evil circus folks to clamber together to make him a big star.
It doesn't look like Timothy Q. Mouse has any part of this story, which is a bummer on a whole lot of levels. But still, Danny DeVito. Colin Farrell. I guess somehow I'll survive. Also, the film reunites Tim Burton and Michael Keaton who worked together on the classic, wonderfully bizarre Beetlejuice. Literally all we need is Winona Ryder singing "Shake Shake Shake Senora" and it would be a full blown reunion.
"[Dumbo] is basically telling the same story with Tim's touch on it," Keaton told Metro. "And not necessarily a touch like we've seen him do before — which, so far, is so physically beautiful, you can't believe it."
I guess we should all collectively stop everything we're doing and go watch the original animated film right now. It's pretty much almost 2019, so we really need to prepare.