Dumplin' Is The Feel-Good Film You Need Right Now
by Cassandra Stone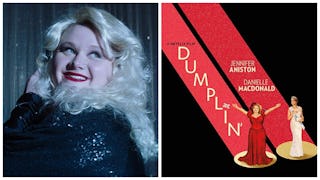 Image via IMDB
Do yourself a favor and watch Dumplin' on Netflix immediately
If you're looking for a great movie based on a great book that dives head-first into self-love and how to have a hell of a good time to a Dolly Parton tune, then you need the Netflix movie Dumplin' in your life, pronto.
This is the story of a plus-size heroine who's utterly unapologetic about her weight — in fact, she actually lives a fulfilling, happy, confident life outside of her bathroom scale. Crazy! I know!
Based on the bestselling book of the same name by Julie Murphy, Willowdean Dixon (played by the magnificent Danielle MacDonald) is the daughter of the town beauty queen (Jennifer Aniston), Rosie. Though she lives with her mother, she was primarily raised by her mom's sister, Aunt Lucy. The movie begins a few months after Lucy's untimely death, which serves as the catalyst for Willowdean entering the Miss Teen Blue Bonnet pageant — organized and directed by none other than her mom, Rosie.
Rosie and Willowdean (or Dumplin', as Rosie calls her — much to her chagrin) have a contentious relationship. One thing this movie does really well is the exploration of the mother/daughter dynamic. Not all mothers are inherently maternal or capable of unconditional love. Luckily for Willowdean, where her mother was lacking, her aunt prevailed. Which just makes the tragedy of losing her even more palpable.
When Willowdean decides to rally a group of "misfits" together to enter the pageant, it seems her primary motivation is to spite her mother. As the story unfolds, it's clear it's about so much more than that. It's about showing the world Willowdean doesn't have to apologize for being fat — she doesn't owe anyone anything beyond being herself.
It's also about the magical powers behind Dolly Parton and her music. In Dumplin', everyone loves Dolly because it's Texas, and, well, who doesn't love Dolly? Her rendition of 'Jolene' could probably bring about world peace. Let's just be honest here.
As a plus-size woman myself, I think there are a lot of reasons to love this movie. Willowdean loves herself, and her entire existence isn't based around her size. Dumplin' succeeds where other creative depictions have fallen short. For example, I love This Is Us, but I would love it even more if Chrissy Metz's entire storyline didn't focus on her being miserable about her fatness. Like a hobby. Or a job. Kate Pearson deserves more, damn it.
Willowdean Dixon is a great character because, sure, she has shortcomings just like anyone else does — but she knows how to find her joy and isn't afraid to show it. For the "swimsuit competition" scene in the movie, she and her best friend proudly don bathing suits on stage that say "Every Body Is A Swimsuit Body," and Reader, I expired of pure happiness right then and there.
There were no diets (other than Rosie's), no exercise montages of Willowdean busting her butt to fit into an evening gown, no frustrated and cliché "harrrummmphh" scenes where she religiously weighs herself on a scale that won't budge.
The only time she feels insecure is after sharing a kiss with a handsome feller she works with — I admit, upon initially watching her begin to doubt herself I worried we were headed into Stereotypical Storyline Territory, but then I remembered being 16. And falling in love for the first time. We can all relate to that.
Additionally, all of Willowdean's friends in her gaggle of outsiders are pretty confident in who they are, too. Together, they're a great group of girls who look out for one another and don't convince themselves things would be better if they were thinner, or "girlier," or less outgoing.
Dumplin' is a breath of fresh air for so many reasons, but first and foremost because Willowdean never tries to be anything other than exactly who she is. Kinda like someone else we know.