The Rock Even Manages To Make Diaper Disasters Adorable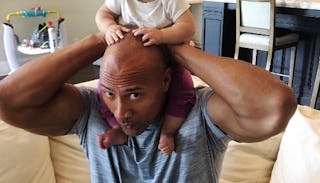 Image via Instagram
More adorable pics of Dwayne Johnson holding his baby? Yes, please
There are moms who probably gave little thought to Dwayne Johnson (aka, The Rock) before he became a father. Sure, his movies and TV shows are cool, but have you seen him holding his daughter and changing her diapers? Oh, and pooping on his neck?
Seriously, you have to follow this guy on Instagram.
The Rock has certainly come a long way since his days as a professional wrestler and arguably, the biggest change in his life has been the birth of his little girl, Jasmine. The adorable tot is clearly the apple of her father's eye and as her devoted dad, he doesn't mind getting involved in the dirty work of parenting. If his Instagram account is any indication, that is.
Check out this sweet snap the actor shared yesterday with his gorgeous little girl perched atop his head doing something her innocent face in no way betrays.
Johnson writes, "In the spirit of Labor Day, I had an amazing philosophical conversation w/ my baby girl about the value of hard work and how respect is given when it's earned."
Because if it's one thing babies are known for, it's working hard and respecting others. Whatever, Rock. Keep talking, we're with you.
He continues, "I told her, "Baby girl when you grow up, you get out there and dent the universe thru hard work and sweat. And always make sure you do it in a positive way with class, dignity and respect". She responded by poo'ing on me in this moment as she plays her favorite game, "Drum time on daddy's big head"."
Sounds about right. Share life-changing advice with your baby, and they literally shit on it. And you. Luckily, Johnson has an excellent sense of humor about the whole thing. And may we point out, this isn't the first time he's shared anecdotes about Jasmine's poo habits.
You've gotta love a dad with the means to travel on a private jet who's still willing to literally bend himself in half to change his own child's diaper.
You also have to love a dad willing to show us his ridiculous muscles along with his adorable child. Hang on, gotta wipe up my drool.
Seriously, we can't take it anymore.
Just kidding, we totally can. Please never stop sharing photos of your life as a dad, The Rock. There's no shortage of fans who love seeing it and one day, sweet Jasmine will appreciate it too.