Dwayne 'The Rock' Johnson Grew A Beard And The Internet Can't Handle It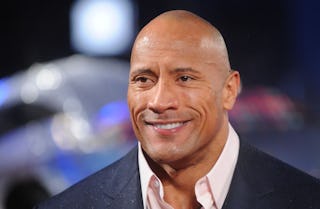 Image via Stuart Wilson/Getty Images)
The Rock is officially a silver fox and we are so here for it
In the bleak hole that is Year of Our Lord Two Thousand Seventeen, we'll take any snippet of feel-good news we can. And honestly, what feels better than ogling an insanely attractive man? Ladies and gentleman, allow us to give you a beautiful sight to behold on this Friday: The Rock's New Beard.
Yes, Dwayne "The Rock" Johnson has grown a beard in the lovely hues of salt and pepper, and the internet has some feelings on the matter. As do we. This is a man who makes diaper duty look sexy, so we're not surprised he's getting accolades for simply growing a beard. He just looks good doing pretty much anything.
Considering he has looked exactly the same (read: HAWT) for, like, 20 years, we think we forgot that even The Rock ages. It's hard to deny that it looks damn good on him.
OH HELLO THERE. It appears he's offering us a positive, inspiring pep-talk of some sort but we're too distracted by his newfound lumbersexual-ness to absorb the words coming out of his mouth. And thanks to Twitter, we know we're not alone.
April, we are so with you on this.
https://twitter.com/jetpack/status/896009853948133376
He basically assaulted us all with his beardly good looks and charm.
LMAO. That's one way to put it!
Same.
Yes, let's launch an investigation into this matter posthaste. We should probably all sit around and admire as many photos of him as possible until we arrive at a satisfactory conclusion.
Lest we get too ahead of ourselves here (and how could we not), let's all take a minute to remember The Rock when he was merely just Dwayne Johnson, regular cool kid of the '90s like the rest of us.
This article was originally published on