The Rock Endorses Joe Biden, Calls Kamala Harris A 'Certified Badass'
by Leah Groth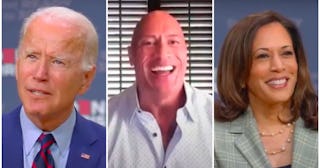 The Rock
In a video, Dwayne "The Rock" Johnson reveals his support of Joe Biden and Kamala Harris in the 2020 election
Some celebrities have no qualms about using their voice when it comes to politics, while others shy away from political discussion altogether. While he has voiced mistrust in Donald Trump, in all of his 48 years, Dwayne "The Rock" Johnson, WWE legend, beloved actor, father, and husband, and "political independent," has never endorsed a political candidate. However, during the heated 2020 election, he is ready to take the political plunge. In a video posted to his YouTube channel and Instagram account, The Rock interviews presidential hopeful Joe Biden and his running mate Kamala Harris, officially giving them his support.
In his Instagram post, Johnson explained exactly why he decided to finally endorse a presidential candidate.
"As a political independent and centrist for many years, I've voted for Democrats in the past and as well as Republican," he wrote. "In this critical election, I believe Joe Biden and Kamala Harris are the best to lead our country, and as my first ever (public) Presidential endorsement, I proudly endorse them for the presidential office of our United States. Progress takes courage, humanity, empathy, strength, grit, kindness and respect. Being KIND & RESPECTFUL to one another will always matter."
In the video, Johnson spoke virtually with the Democratic candidates, meeting Harris for the very first time. First, the 55-year-old female VP candidate adorably admits she is a "huge fan" of Johnson's work.
Shortly into the interview, Johnson officially endorses the duo.
"I have been a lucky guy over the years, in my life and my career to have been part of and participated in some real defining moments, and I've never publicly endorsed a presidential candidate or vice presidential candidate in my life, over my career," he said.
"That means a great deal to us, for real," Biden responds.
"You guys are both obviously experienced to lead. You've done great things. Joe, you've had such an incredible career. You've led in my opinion, with great compassion, and heart, and drive, but also soul. You and I talked about that in the past and how important soul is," Johnson said to him.
Johnson also gushed over Harris and her impressive career, declaring her "smart and tough."
"I've seen you in those hearings and in my opinion you are a certified badass," he told her.
He also asked the two hopefuls how they would earn the respect of the American people if elected, and Biden explained that it would start with honesty.
"By doing what we say we're going to do. By keeping our word. By leveling with the American people. By taking responsibility. When we fail, acknowledge it," he responded. "We're not going to be perfect, but take responsibility. Say, 'This is what I'm going to do, this is what I believe and tell the truth.' That sounds so basic, but the American people are strong, they're tough, they can take anything if you level with them, and tell the truth."
Biden added that "one of the ways we're going to do it is to demonstrate we mean what we say."
"Our administration, DJ, is going to look like America. It's going to be representative of all of America," Biden continued. And yes, he referred to Johnson by his initials, DJ.
Harris expanded on the concept of trust and how it would play into their administration.
"As we know, the nature of trust is that, like Joe was saying and as you've said, it's a reciprocal relationship. You give and you receive trust. And one of the foundations of trust is truth. You must speak truth but here's the reality: truth can sometimes be really difficult to hear and for that reason sometimes people don't speak it. But you cannot have trust if you don't speak truth," she said.
She likened it to parenthood, and the necessity as parents, to speak the truth — especially during the COVID-pandemic. "As long as there is an understanding that it is being spoken not to confront, not to hurt, but to deal with things, the way they must be handled. That has to be part of the core of what we do as we go forward because to your point, we're facing as a country so many challenges and people are grieving," she explained.
"I mean, people are grieving the loss of life, the loss of jobs, the loss of certainty, the loss of normalcy and to heal and get through this we're gonna have to be honest about what healing will require. That's one of the things that Joe and I really do have in common, which is we're motivated by healing, but we know to do that, we have to be honest about what it's going to take," Harris added.
Glad to see The Rock throwing his weight and using his platform to endorse the Biden/Harris ticket during this critical election.
This article was originally published on