The Rock Surprised Fan For Her Birthday After Her Dad Passed Away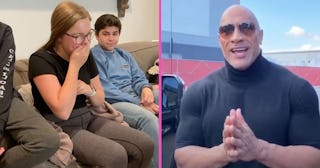 therock/Instagram
Dwayne Johnson shares a heartwarming message to a superfan who recently lost her father
Over the years, Dwayne "The Rock" Johnson has proven that he is 100 percent deserving of his celebrity. Not only is he a hard working, talented actor that has continued to break boundaries in Hollywood, but he has used his fame to make the world a better place, touching the lives of his fans in unbelievable ways. This week, the 48-year-old dad of three literally made one of his biggest fan's year, when he gave her a seriously amazing shout out on TikTok.
Hannah Sumner is such a fan of Johnson that her TikTok account tagline reads "i love the rock." She regularly shares videos in which the actor makes an appearance as a cardboard cutout in the background. So, after Johnson learned that Sumner recently suffered a heartbreaking loss, he touched her life in the most amazing way, making her a personal and moving TikTok video in honor of her birthday.
Sumner shared part of the TikTok message she received from her idol on the social media website on Friday. "It is official: Dwayne Johnson knows who I am!" she excitedly shouted.
Even cuter, is that Johnson himself shared a video of the moment Sumner watched his video to her.
"Stuff like this will always, ALWAYS be the best part of my fame 🙏🏾🖤," he captioned it. "This amazing young lady @hannnahsumner has been posting these awesome TikTok vids with my cardboard cutout for months and months now trying to get my attention. She's a SUPER ROCK FAN and I had no idea at all there was even a ROCK PARTY going on 🎉🤷🏽‍♂️🤣 But I came to find out that sadly, her dad passed away suddenly earlier this year and that immediately got my attention — because my dad suddenly passed away earlier this year too. How lucky am I though?? That now I'm in the same club with such an extraordinary and super cool young lady who happens to be my biggest fan!!??!!"
But what makes Johnson so amazing is that getting to bring happiness to his fans, makes him just as happy.
"And now I'm her biggest fan too," he added. "LITERALLY her (275lbs of cheat meals) biggest fan 🤣👊🏾 HAPPY BIRTHDAY HANNAH and HAPPY HOLIDAYS to you and your family. And I'm not sure who screams louder, you or your mom?? 😂😂 Thanks for making my day, Hannah. Lots of love and I know this year's been a tough one – so you, your mama and your family stay strong."
He signed the post "DJ aka Dwanta Claus 🎅🏾🙏🏾♥️ ," adding "*oh and I'm quite sure our dads are fist bumping with joy up there in the clouds."
Of course, this isn't the first time Johnson has used his celebrity for the good of others. One of his more adorable moments occurred in October, when he sent his 101-year-old fan bottles of tequila for her birthday. And, in November when a 5-year-old fan sent him a video message about the importance of preventing domestic abuse, he responded by sharing it with an empowering message of his own.
2020 has been a dumpster fire of a year, filled with tons of jerks, some of them leading the country. Thankfully, we have role models like The Rock to remind us that there are genuinely amazing people out there.
This article was originally published on